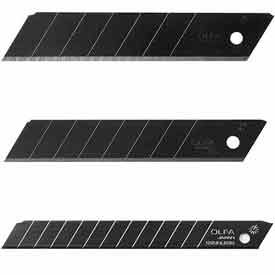 Snap-Off Utility Knife Blades
Snap-Off Utility Knife Blades Are Designed For Applications Including Construction, Industrial, DIY, And More.

Snap-off utility knife blades contain rigid steel for lasting cutting strength and durability. Blades accommodate shrink wrap, wallpaper, carpet, insulation, and more. Snap-off feature eliminates dulled edge, maintaining cutting precision. Double-honed design provides optimal sharpness and edge retention. 59 degree edge angle optimizes cutting power and minimizes breakage. Unit length improves leverage for increased cutting depth. Package quantities range from 1 to 50. Dimensions vary per model.