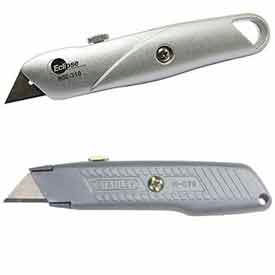 Retractable Blade Utility Knives
Retractable Blade Utility Knives Allow Convenient and Safe Cutting for Construction, Distribution, DIY, and Other Related Applications.

These utility knives are made of high quality materials for long lasting durability and dependability. Knives are designed for repetitive heavy-duty cutting applications. Retractable blade offers variable cut depth for application versatility. Push button allows instant blade change with no tools required. Contour handle and thumb pad allows ergonomic handling and user comfort. Interlocking nose design secures blade and prevents unit separation. Works with most standard utility blades. Type is Retractable Blade Utility. Blade type is Trapezoid. Handle materials are Aluminum, Metal, Plastic, and Rubber. Colors are Blue/Gray, Gray, Gray/Black, Hi-Visibility Green, Hi-Visibility Orange, Yellow, and Yellow/Black. Dimensions vary per model.