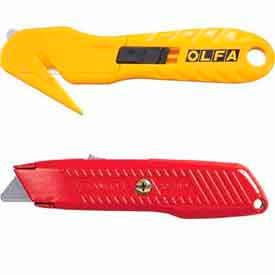 Safety Utility Knives
Safety Utility Knives Are Designed For Applications Including Construction, Distribution, DIY, and more.

Safety utility knives prevent injury and content damage for user safety and product stability. Unit grip provides ergonomic handling and slip-resistance. Safety features are Automatic Self Retracting, Concealed Blade, and Squeeze Lever Activation. Handle materials are Aluminum, Metal, Plastic, and Stainless Steel. Blade types are Safety and Trapezoid. Colors are Gray/Black, Red, Unpainted, Yellow, and Yellow/Black. Dimensions vary per model.