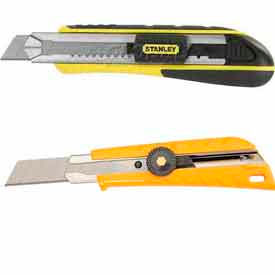 Snap-Off Blade Utility Knives
Snap-Off Blade Utility Knives Are Designed For Applications Including Construction, Distribution, DIY, And More.

Snap-off blade utility knives prevent injury and content damage for user safety and product stability. Blade snapper allows ergonomic blade replacement with no required tools. Lock provides blade support for operation handling and stability. Clip provides convenient pocket storage. Blade type is Snap-Off. Colors are Blue, Blue/Black, Blue/Yellow, Gray, Unpainted, Yellow, and Yellow/Black. Dimensions vary per model.