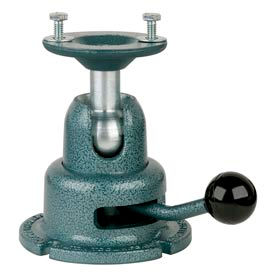 Pow-R-Arm Work Positioners
Pow-R-Arm Work Positioners Are Used For A Variety Of Assembly Line Production Applications.

Mechanical Positioners are made from cast iron with all steel parts for lasting durability. Exceptionally fast on-off action. Features two mounting holes at the top. Hydraulic Positioners are hand-operated, self-contained and sealed with replaceable cups. Features hydraulic locking action. Junior Positioners are made from cast aluminum with steel parts. Fast on-off action with horizontal-moving lock handle. 3 diameter mounting pad with two 1/4-20 holes 180° apart. Four slotted equally-spaced 9/32 diameter mounting holes. Veep Positioners feature a cadmium-plated steel body with cast iron base. Horizontal handle is easily accessible and dwells below level of work. Four 1/4" diameter equally-spaced slotted mounting holes. Lifetime Limited Warranty.