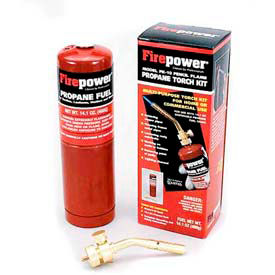 Firepower® Air Fuel Torches & Kits
FirePower® Air Fuel Torches And Kits Are Designed For Light To Moderate Welding Applications.

FirePower® Air Fuel Torches feature solid brass construction for long-lasting durability. They include flame control valves for precision heating and welding operations. Torches utilize propane gas for dependability. Some models include built-in safety valves to prevent workspace accidents. Available Descriptions are Propane Tank, Propane Torch, and more. Specs and dimensions vary per model. Available Colors are Brass and Steel. Additional specifications vary per model.