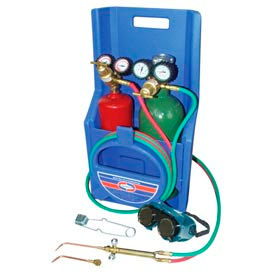 Uniweld® Oxyacetylene Kits
This Selection Of Uniweld® Oxyacetylene Kits Offers Protection In Welding, Brazing And Cutting Applications.

Outfit kits include single-stage R series regulators with protective rubber gauge boots. Welding handle with stainless steel ball point valves offer accurate gas control.

Mastar® Outfits are highly rated by commercial refrigeration technicians and great for use by maintenance service technicians. Industrial grade RS series regulator. Cutting attachment with one-piece solid copper mixer cuts steel up to 1/2". Rosebud tip allows brazing of copper tubing up to 2-5/8". Welding top allows brazing of copper tubing up to 1" and welding of steel up to 1/8". Twister® air/acetylene tip allows plumbing and repair work.

Cap'n Hook® Outfits feature a three flame tip for 100% wrap-around brazing heat. Used for HVAC/R technicians and plumbers. Brazing tip allows brazing of copper tubing up to 7/8".

Patriot® Outfits are a favorite for refrigeration and HVAC service technicians. Three-tube tip mix cutting attachment allows top performance and safety while cutting steel up to 1/2".

Centurion® Outfits provide an economical, contractor grade outfit that is lightweight, portable and effective for light to medium duty jobs. Two welding tips for brazing up to 1" copper tubing and welding with acetylene up to 1/8" steel.