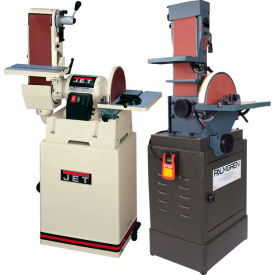 Combination Belt & Disc Sanders
Belt Sanders Deliver Maximum Performance In Measurement and Sanding for Woodworking, Carpentry, and Other Related Applications.

These sanders are constructed with a heavy cast iron table for strength and long lasting durability. Powerful 1/3 to 25 HP motors handle heavy duty sanding jobs. Most woodworking sanders feature multi-position tilt for versatility. Tilts lock in place to sand flat pieces or mitered angles. Motor voltages are 115/230V, 120/240V, 230/460V, 115V, 120V or 230V. Available types include Belt /Disc Sander, Belt/Disc w/Closed Stand, Belt/Disc w/ Open Stand, Belt Sander, Benchtop Belt/Disc, Open End Belt Sander, Oscillating Edge Sander and Wide Belt Sander. Table size varies by model.