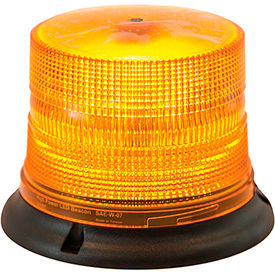 Vehicle Beacon Lights
Vehicle Beacon Lights Add an Extra Warning For Trucks, Service Vehicles, and more.

Vehicle Beacon Lights are ideal for tow, plow, utility, dump, wide load and many more types of work trucks. These lights have 1-15 flash patterns and can be permanently or magnetically mounted to any vehicle. 12-24V amber light plug into an accessory outlet. 10 ft long cord gives you mounting versatility. Available beacon light styles include 3 LED w/Tall Lens, 6 LED w/Tall Lens, 8 LED, 12 LED w/Low Profile or Tall Lens, 32 LED, 40 LED, Magnetic Mount 8 LED w/10' cord, and portable 72 LED. Connections are plug, hard-wired, batteries, and blunt-cut. Black housing, amber color.