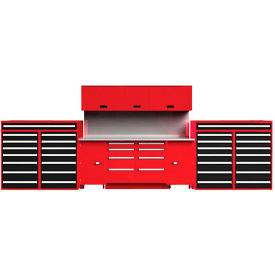 Equipto Bay Automotive Workbench Systems
Pre-Configured Workbench Systems Provide a Safe and Organized Work Environment.

Versatile workstation system can be used in service maintenance or production area. Provides a safe and organized work environment (OSHA). Easy-clean, corrosion resistant Stainless Steel Counter is perfect for use in multiple work environments.

Workbench System with pre-configured components -include lower workbench with sliding doors, stainless steel counters and chaseway, 200 lb drawer weight capacity, drawers lined with rubber protection mats.