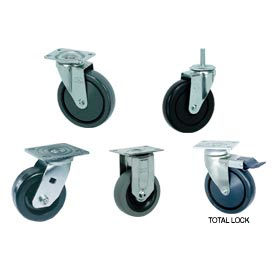 Faultless® Premium Casters
Faultless® Premium Casters Accommodate Material Handling Carts In Need of Mobile Transport.

Faultless® premium casters provide versatile floor protection and mobility. Double ball bearing raceway casters are available with various Wheels, Brakes, Top Plates and Stem Mounts.

Choose the Caster Wheel that Best Suits Your Transportation Needs:
Steel Casters are for heavy duty applications. Resists extreme temperatures and used for concrete floors.
Polyolefin Casters are lightweight with high impact resistance. Protects floors and resists heat and chemicals.
Polyurethane Casters provide a cushioned ride that protects loads and floors. Phenolic Casters offer high strength and impact resistance. Non-marring to protect floors. Resists oils and acids.
Thermoplastic Casters offer high capacity and extra durability. Perfect for food and sanitary applications; can be steam cleaned.
Mold On Rubber Casters have a steel hub. Offers quiet movement and low initial roll effort.
TPR Rubber Casters have a non-marring wheel and polyolefin hub that resists chemicals, acids and steam.