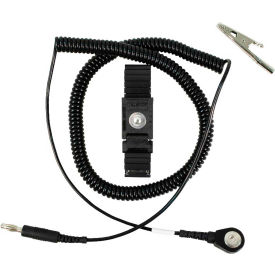 Anti-Static Wrist Straps & Coil Cords
Anti Static Wrist Straps and Coil Cords Accommodate Workbenches and Desks In Need of Disposable Static Surface Protection.

Anti static wrist straps and coil cords are designed to protect accessories and work surfaces from static effects. Select models are lead-free and RoHS compliant. Available Types are Coil Cord, Coil Cord with Wrist Strap, and Wrist Strap. Available Styles are Banana Plug and Right Angled Banana Plug. Dimensions and additional specifications vary per model.