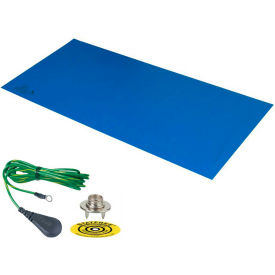 Vinyl Anti-Static Mats
Vinyl Anti-Static Mats Are Suitable For Assembly Operations In Need of Static Protection.

Vinyl anti-static mats reduce static charge generation as a work surface table mat, shelf liner, or cart line. Units feature volume electrical properties that protect static sensitive products and provide workplace safety. Select models include a large threaded grounding clip and a canvas carrying pouch for easy portability. Durable vinyl construction provides lasting durability. Available Thickness is 0.018", 0.06", 0.08", and 0.125". Dimensions and additional specifications vary per model.