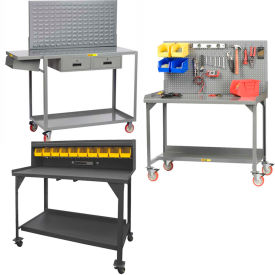 Mobile Workbench With Panel Risers
Mobile Workbench With Panel Risers Provide a Convenient and Storage Accessible Work Surface For Workshops, Assembly Lines, Repair Areas, and more.

Mobile workbench with panel risers offer strength and durability for heavy duty content support in harsh working conditions. Select models include louvered panel for increased tool storage capacity. Lower shelf adds out of the way storage for larger equipment and content. Locking casters ensure ergonomic unit mobility and accidental roll prevention. Optional locking drawers are available as an added security measure against unauthorized tool access and theft. Available styles are Louvered Panel, Pegboard Panel, and more. Weight capacities are 1,200 and 4,000 lbs. depending on the model. Dimensions and additional specifications vary per model.