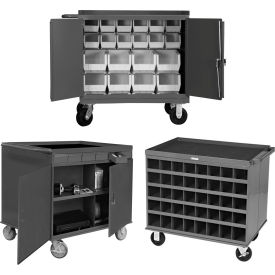 Mobile Small Parts Service Benches & Carts
Mobile Small Parts Service Benches and Carts Are Designed To Store Small Tools, Bolts, Screws and Other Hardware.

Mobile small parts service benches and carts are designed to withstand heavy loads. Most units feature both side and back stops to deter tool and content spillage. Select models include bins. Compact design allows for easy fit between or next to other workstations. Select cabinet doors feature 3-point locking handle with cylinder lock and 2 keys. Most models include caster wheels and wide grip handle provides ease of transportation from one worksite location to another. Available weight capacities range from 1,000 – 2,000 lbs. depending on the model. Dimensions, door quantities, and additional specifications vary per model.