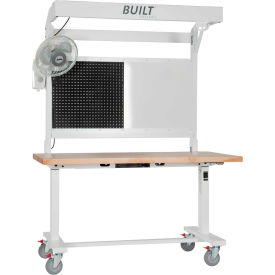 Built Systems Ergonomic Modular Assembly Tables
Built Systems Assembly Table consists of Highly Customizable, Height Adjustable Workstations for your Employees Comfort, Convenience, and Efficiency.

Height-Adjustable Assembly Tables are designed with the end user in mind. Driven by two in-house designed and built electric columns, this table provides 150 pounds of lift with 18 inches of vertical travel. Available in multiple standard sizes, this workstation allows users to adjust the table to meet their needs at the touch of a button. Every BUILT Systems workstation is fully customizable to fit your manufacturing process.