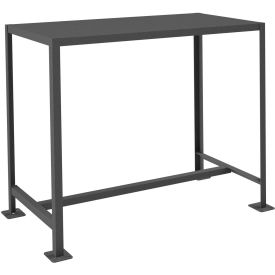 Open Leg Machine Tables
Open Leg Machine Tables Provide a Convenient Work Surface and Storage for Automotive Garages, Workshops, Assembly Areas, and more.

These tables are designed as a heavy duty work surface for supporting working tools and equipment including drills, saws, and more. The open leg design is ideal for oversized content storage as well as increased leg room for improved user comfort. The all welded steel construction ensures heavy duty content support for years of reliable service. Includes angle iron legs and braces for improved unit strength and support. Weight capacity is 2000 lbs. Color finish is Gray. Dimensions vary per model.