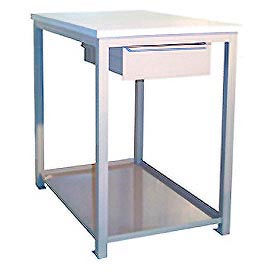 Heavy Duty Drawer/Shelf Shop Stands
Heavy Duty Drawer/Shelf Shop Stands Provide a Storage Capable Work Surface for Automotive Garages, Assembly Lines, Workshops, and more.

Heavy duty drawer/shelf shop stands are designed to store small tools including screwdrivers, hammers, and other materials during repair or assembly work. Most models feature all-welded tubular steel frame construction for strong and rigid durability in harsh working conditions. Scratch resistant enamel finish ensures corrosion resistance for years of reliable service. The welded base plates offer reinforced floor anchoring for added stability. Select models include optional 4" casters are available for ergonomic unit maneuverability and transport. Top types are Maple Butcher Block Square Edge, Plastic Laminate Square Edge, Shop Top Square Edge, and more. Colors are Beige, Black, Blue, and Gray. Dimensions and additional specifications vary per model.