CAT® FLOOR CARE EXPANDS LINEUP WITH WIDER CLEANING FOOTPRINTS
When it comes to cleaning and maintaining your floors, there's no better, safer, or more reliable name to turn to than Cat® Floor Care solutions. Whatever floor care solution you're in the market for, be it scrubbers, sweepers, and/or vacuums, Cat® Floor Machines are specifically designed for high-trafficked industrial environments, professional building services, and of course, facility maintenance.
Cat® Floor Care's ever-expanding line continues to break the mold and excel at the arduous tasks of scrubbing, sweeping, and even wet/dry vacuuming. And now two new machines with wider footprints have been added to the 2023 lineup, making large cleanups even quicker and more efficient than ever before.
Let's take a look at the newest additions to the Cat® Floor Care family.
New Cat® 70" Ride-On Sweeper
Take a load off and climb into the driving seat of the Cat® C70R Ride-On Sweeper. This impressive new machine is perfectly-suited to large areas both indoors and outdoors; you can literally go from cleaning a gym to a parking lot in seconds. The C70R also delivers a cleaning capacity of 204,514 sq. ft per hour (that's the size of almost four football fields) and comes complete with four side brushes and a center roller brush that give you a cleaning path of 70 inches. With a 60.7-gallon solution tank and a 42.2-gallon hopper tank capacity, you can go a long way between fill ups and empties.
What's more, its built-on safety features include self-cleaning filters and a front water mister to ensure dust suppression and provide consistent suction. Plus, the seatbelt, bright LED headlight, turn signals, blue safety warning light and non-slip diamond tread platform help keep the rider safe during use.
New Cat® 26" Ride-On Scrubber
The new Cat® C26R Auto Ride-On Floor Scrubber is superb value for money, coming in at less than $9k but with the power and efficiency of more expensive models. Complete with a heavy-duty cast aluminum squeegee, a 23-gallon solution tank and a 25-gallon recovery tank, this highly maneuverable machine can clean 37,600 sq. ft. per hour.
The C26R also boasts some excellent safety features, too, including a bright LED headlight, blue safety warning light, impact resistant body, seatbelt, pressure sensitive seat and a non-slip diamond tread platform. An impressive machine, both in features and affordability, it's a powerful addition to your cleaning arsenal.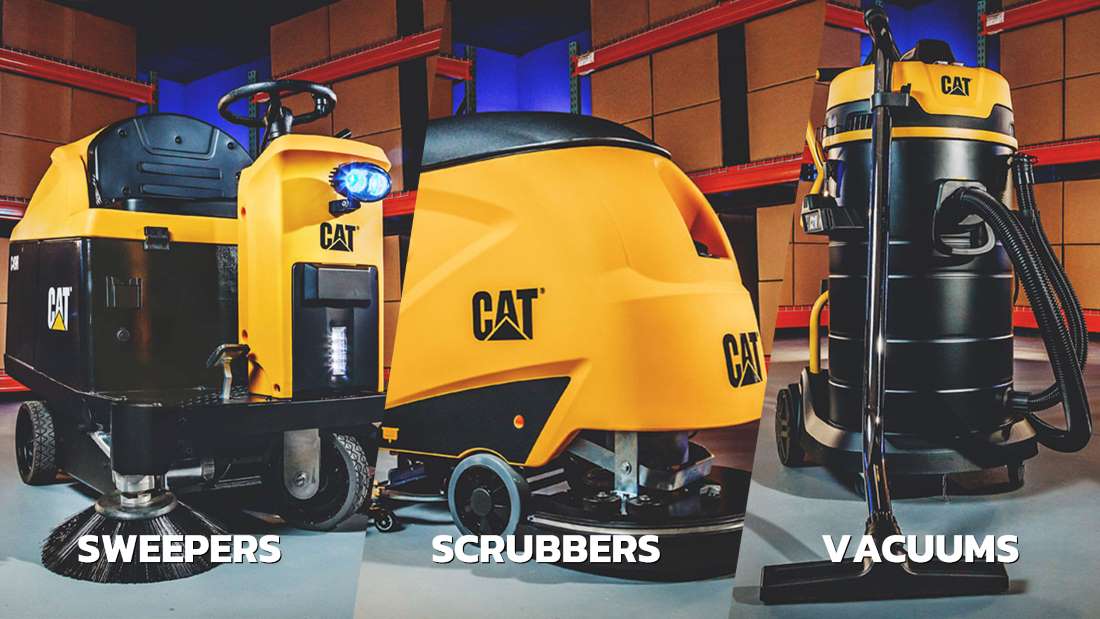 Other Machines in the Cat Floor Care Lineup
If you're in the market for a walk-behind scrubber, the Cat® C20T Auto Floor Scrubber With Traction Drive is just what you need. Corrosion and impact resistant, it has a cleaning path of up to 20" and comes with a 15-gallon solution tank and 17-gallon recovery tank (which means more time cleaning and less time refilling). Its powerful motors deliver 220 RPM and pad pressures of up to 110 lbs. High. This model is battery operated, giving the operator more freedom and range. And the Cat® C20E Electric Walk-Behind Corded Auto Floor Scrubber is another option if cord length isn't an issue and your budget is tight.
The Cat® C40R Auto Ride-On Floor Scrubber has an impressive 40" cleaning path and comes with increased brush pressure to tackle even the dirtiest of floors. With a powerful 220 RPM motor, 45-gallon recovery tank, and 40-gallon solution tank, you can cover 73,518 sq. ft. per hour. And along with the safety features you expect from Cat (seatbelt, front blue warning light, front bumpers, non-slip diamond tread platform) you also get some creature comforts like a cup holder, phone holder, and even a USB charging port for added convenience.
And if you need a top-of-the-the line floor sweeper that's built to handle heat and humidity concerns, you should consider Cat® Floor Care's flagship Cat® C70RX Ride-On Sweeper with AC Cabin. Featuring the same impressive cleaning power as the new C70R, this dream ride also has an entirely-enclosed, air-conditioned cabin for maximum rider comfort. Eight 6V 305Ah batteries also help extend the run time of this exceptional cleaning machine.
Finally, the Cat® Floor Care Wet/Dry vacuum range gives you the reliability and power you need at a price any facility can afford. The Cat® C21V Stainless Steel HEPA Wet/Dry Vacuum is a super addition to any cleaning arsenal. With a huge 21-gallon tank capacity, large spills and clean-ups are dealt with quickly and efficiently. Complete with a set of cleaning tools, including a metal crevice tool and round brush, you've got everything you need to tackle the trickiest jobs. There's even a cartridge filter to collect fine dust.
And if you only have light and occasional uses for a Wet/Dry vacuum, the Cat® C06V Stainless Steel HEPA Wet/Dry Vacuum is a steal. Coming in at just over $150, which is way more affordable than most residential vacuums, this model has a 6.6-gallon tank, 15-foot power cord, and all the tools you need to tackle those deep-cleaning jobs a regular vacuum cannot handle.
We invite you to check out the entire Cat® Floor Care range right here, and if you need any help or advice when it comes to choosing a Cat® floor scrubber, sweeper, or wet/dry vacuum, the experts at Global Industrial will be happy to help you with any questions.
© 2023 Caterpillar. All rights reserved. CAT®, CATERPILLAR, LET'S DO THE WORK, their respective logos, "Caterpillar Yellow", the "Power Edge" and Cat® "Modern Hex" trade dress as well as corporate and product identity used herein, are trademarks of Caterpillar and may not be used without permission. Global Industrial™ a licensee of Caterpillar Inc.
The information contained in this article is for informational, educational, and promotional purposes only and is based on information available as of the initial date of publication. It is the reader's responsibility to ensure compliance with all applicable laws, rules, codes and regulations. If there is any question or doubt in regard to any element contained in this article, please consult a licensed professional. Under no circumstances will Global Industrial® be liable for any loss or damage caused by your reliance on this article.