How to choose the best heater for your facility
[Image Attribution: profoto1 via Getty Images]
Winter is fast approaching, which means it's time for warehouse and big-box retail facility owners and operators to shift their focus to keeping their spaces warm and comfortable as temperatures drop. If your heaters haven't kept up in the past or you need a more efficient option, the time to be thinking about a change is now.
Why you should be thoughtful about heat
When employees are cold, they get distracted, and distracted workers aren't safe workers.
Employees may seek out their own methods to keep warm, which can lead to safety issues if unapproved heaters are left unattended, are operated near flammable materials, or are placed in a walking path.
Product loss is also a risk. Depending on the materials in your facility, the margin for cold temperatures may be slim. If after-hours temps drop, you could be looking at product degradation or even loss.
Investing in the right heat for your space delivers returns in the form of greater employee satisfaction, increased safety, and product assurance. Upgrading your machinery also can improve your building's energy efficiency, leading to additional savings.
What are your heating options?
The first step to upgrading your heating is to understand what options are available for large commercial facilities.
Radiant
Radiant heaters quietly warm people and objects, not the air. As their name suggests, they radiate heat from the surface they are a part of, typically ceiling panels, flooring, or under-desk units. Radiant heat is energy efficient in stationary applications such as a bathroom or office.
Infrared
Infrared heaters work like the sun to heat people and objects. These units start working instantly (whereas radiant requires warmup time). They do not reduce oxygen content and also promote healthy blood circulation. Infrared heaters provide targeted directed heat, and so are best suited for spot and zone heating.
Convection
Convection heaters are designed to quickly heat an entire room, moving heat by air or water and relying on air circulation to spread the warmth. These models are ideal for heating large, closed rooms for an extended period of time. However, the air is susceptible to mixing with cold air from outside if near a frequently opened exterior door or loading bay.
Forced air
Most of us are familiar with forced-air heating, which heats the air directly and then circulates that warm air throughout a space. This affordable method heats quickly and powerfully. However, it can take longer to heat up a large space and can stir up dust and pollutants. Forced air typically comes from furnaces or wall units.
Conduction heating
Conduction heaters warm specific areas or items and keep them at a warm temperature; they are not designed to warm the entire room. Conduction heaters come in console or room models.
What type of heater is right for your space?
When choosing a heater or system, it's important to consider how your facility is designed and used. Consider these questions:
How large is the space?
You'll need to determine how much heating output is needed for your facility or space, in what climate zone it is located, and how the building is insulated. Here is a basic calculation to guide you: Measure the size of the area to heat and multiply length x width x 8.2. Using the chart below, find your total watts required for the room and then the needed BTUs.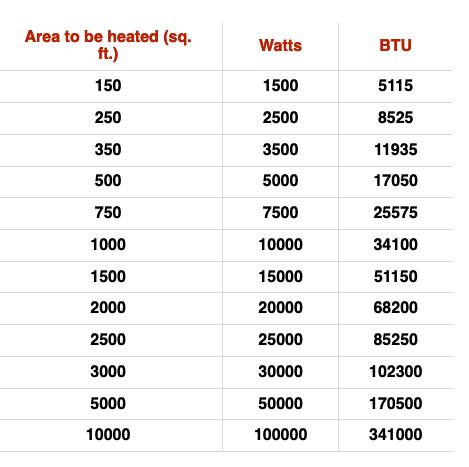 For high-ceiling spaces, consider suspended fans that recirculate hot air from the ceiling back to the ground. In addition, tiltable fans will force warm air from ceilings down to work areas.
What fuel/power sources are available?
The fuel choice in your space may be predetermined. Here are considerations for primary fuel types:

Electric is ideal for supplemental heating due to its flexibility and lack of fumes and leaks. However, it cannot heat large areas efficiently.
Gas is more energy-efficient and less expensive than electric and oil heat. Upfront purchase prices will be higher, and gas units have a shorter life span.
Oil provides more heat per BTU and is non-explosive. These units require more maintenance due to soot buildup and are less efficient than gas.
Hydronic/radiant delivers instant, uniform heat, and is more efficient than conventional HVAC systems. However, it is best suited to heating people in close proximity.
How is the space used?
A facility's setup is also a factor when choosing how to heat it. For example, large racks of products can block the flow of heated air, reducing the effectiveness of direct heat sources such as infrared. Large entryways such as loading docks can bring cold air in, diluting the warm air from the heater; installing cove heaters over doors and windows can regulate the temperature of that air for consistent heating.
Are there areas employees frequent? Or products susceptible to cold temperatures? Give those areas priority for heating.
And keep in mind that different areas of the building may require different heating types, such as forced air for the warehouse where more space needs to be covered and infrared for smaller or enclosed areas such as packing stations or offices.
How will it be installed?
Some heating units come in floor-, wall-, and ceiling-mount options, so you can choose what makes the most sense for each space. A wall- or ceiling-mounted unit may be preferable in areas where floor space is limited.
Is portable heat needed?
Having portable heating options on hand can be helpful. Uses might include temporary spaces (such as a makeshift conference room), seasonal needs (such as an outdoor lunch area), or for extra help to dry out areas after a spill or water leak.
Is this the primary or secondary form of heat?
The ultimate goal is to heat in a consistent, uniform manner. If the new heater will be the primary source of heat, consider an option that will provide consistent, indirect heat. If secondary, choose an option that will provide targeted heat.
Is the heat needed for a specialty application?
Global Industrial offers a range of heaters for even more specific uses, including blanket heaters to protect drums, barrels, and containers; for hazardous locations; to protect against freezing in pump houses; and washdown electric unit heaters for dirty, dusty environments.
A solution for every need
Creating the ideal heating setup for your building's unique needs can help ensure your employees are comfortable, your products are maintained, and your operations are safe.
Contact Global Industrial's product experts to get started finding the best options for your facility.
-
The information contained in this article is for informational, educational, and promotional purposes only and is based on information available as of the initial date of publication. It is the reader's responsibility to ensure compliance with all applicable laws, rules, codes and regulations. If there is any question or doubt in regard to any element contained in this article, please consult a licensed professional. Under no circumstances will Global Industrial be liable for any loss or damage caused by your reliance on this article.