Important updates from our CEO
Dear Valued Customer,
As our communities continue to recover from the impacts of the pandemic, I wanted to personally reach out to share the challenges we — and many other businesses around the world — are continuing to face.
There have been significant raw material shortages and supply chain issues, including limited labor availability, and a worldwide imbalance of ocean vessels and containers — coupled with unforeseen spikes in demand — which have contributed to extended product lead times, as well as inflationary pressures on prices. As a result of these challenges, you may see select price increases, along with varying lead times and product availability.
Rest assured, Global Industrial has stayed abreast of these unexpected changes and roadblocks, demonstrating our ability to quickly pivot to work as efficiently as possible. We're searching the globe to find products in short supply and will continue to work proactively to ensure competitive pricing.
However, we encourage you to be mindful of what your business needs will be in the coming months and to plan accordingly. With the likelihood of continued shortages and supply chain issues as the world ebbs and flows with various pandemic-related obstacles, it's essential to stock up on the items you need now, rather than later. Additionally, with over one million products available, our dedicated sales associates are committed to help you find substitute items for products that may currently or soon be in short supply or out of stock.
As always, I am grateful for your business. We will continue to work through these unprecedented times together — and come out stronger.
Sincerely,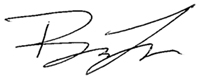 Barry Litwin
Chief Executive Officer