COOL OPERATORS: UNDERSTANDING INDUSTRIAL COOLING BASICS
With the warm weather upon us, cooling your facility efficiently and effectively becomes a top priority. The three most common industrial cooling solutions are air conditioning, evaporative cooling, and misting fans. In this article, we are going to take a look at each of these cooling systems, compare some key advantages and disadvantages, and help you identify which industrial cooling solutions are best suited for which applications within your facility.
What are the main differences between these three types of cooling solutions, and which should you choose? Well, that all depends on several factors including cost, climate, and location.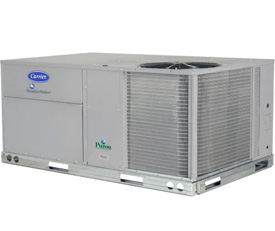 The most versatile of the three options, but it comes with the highest equipment, installation, and running costs.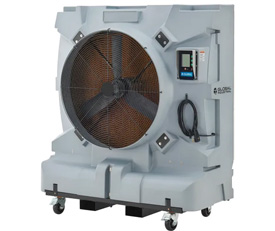 Ideal in environments/climates with low humidity, this method of cooling is less expensive than A/C and more environmentally-friendly.
The most economical choice, and very effective at cooling people both indoors and outdoors, especially hot summer events, but they do require a water source.
So, what's industrial air conditioning (A/C)? Well, in layman's terms, it's very much like the A/C you find in almost every modern residence these days, but operating on a much larger scale. While the design and scale of these systems has changed since its inception, the basic principles and challenges of indoor climate control remain the same.

Let's examine the main components of an air conditioner. These elements work in a seamless, continuous cycle, with the refrigerant being the heart of the air conditioner. This chemical compound changes from a gas to a liquid and back again, absorbing and releasing heat during the process, which is crucial to your air conditioner's function.
A/C MAIN DESIGNS
If you are located in a low-humidity area, an industrial portable evaporative cooler could be the best way forward for your facility.

Evaporative coolers move air, via a blower, through water-soaked pads. This water in the pads evaporates, reducing the air temperature by up to 20°F. This option is also health and climate friendly, as breathing moist air is better for the body and this system doesn't use chemical refrigerants or pollutants.

Due to the way they are built and maintained, they can cost about half as much to install as central air conditioners, and use around one quarter of the energy costs. They do take more maintenance though, and again, are only useful in areas with low humidity. Why? Well, the system relies on there being less water in the air than in the water-soaked pads. If there is already moisture-dense air to deal with, the effectiveness of the unit is reduced drastically, to the effect that in high humidity the cooling effect is almost nonexistent.

As with many industrial cooling options, you are not limited to one specific type of evaporative cooler. Choose from either portable or window units, each coming in a range of sizes and prices to fit any budget. In either case, outdoor venting is required to channel heat away from the building.
Finally, when your team is working outdoors, or you are hosting outdoor events that need to be cooled in extreme heat (think weddings, festivals, car shows, open-air concerts, after-work parties and so on), misting fans are the ideal and affordable option to keep employees and guests comfortable throughout the day.

As the name suggests, misting fans require a water source. Tankless misting fans pull the water from a source like a garden hose, which is a great "set it and forget it" option. Misting fans with tanks give you greater freedom on where to place the unit(s), but you do have to remember to refill the water throughout the day.
Either way, the fans pull the water supply and release it through vents in the fan, which combined with the wind generated by the fan produces a natural cooling solution (in much the same way that the human body cools itself by using sweat).

Misting fans come in a wide variety of sizes (including water tank sizes) and power options, and are both energy-efficient and affordable. They can also be brought in and out of storage as needed, making them excellent to have on site so they can be used whenever the heat is on. Some come with oscillation, most come with several speed settings so you can adjust the amount of cooling to perfectly accommodate all in attendance.

While these three industrial cooling options are most common, there are many ways to cool your facility, employees and guests which you can find right here at GI. And remember, whatever help or advice you need selecting the right cooling solution for your workspace, please don't hesitate to ask our Global Industrial experts who are more than happy to assist you.

The information contained in this article is for informational, educational, and promotional purposes only and is based on information available as of the initial date of publication. It is the reader's responsibility to ensure compliance with all applicable laws, rules, codes and regulations. If there is any question or doubt in regard to any element contained in this article, please consult a licensed professional. Under no circumstances will Global Industrial® be liable for any loss or damage caused by your reliance on this article.