Ingredients for Hospitality Foodservice Success
Like many of the recent monumental changes throughout the hospitality industry, the evolution of what's on the menu can be attributed to a number of factors. From COVID-19 to lifestyle and cultural shifts to changes in guest demands, the foodservice division of the industry has been revolutionized. As a result of these changes and the industry's willingness to adapt to them, hospitality foodservice revenues continue to steadily increase each year. In fact, it's estimated to reach $1.9 billion by 2029 in the U.S alone.
In an effort to continue to meet these new changes, the way we used to think of hotel foodservice has been transformed into healthier, more convenience-focused versions of their former selves. Grab-and-go meals, healthier options, automated ordering, at-home delivery options and more have become important new ways the industry is satisfying guest needs. Not to mention the fact that it is also an easy way to create differentiation from the competition and grow revenue.
Now, let's dig into the trends that are helping elevate the food and beverage service within the hospitality industry.
Health & Safety Foodservice Trends
The hospitality sector, like most other industries, has seen its share of COVID-19 related evolutions. The food and beverage services arm of the hospitality industry is no exception. Guest health and safety continue to be a high priority for the industry. As a result, we're seeing a number of related trends. For example,

Online Menus: Safety and health concerns instituted a shift to online/paperless menus. Now convenience and a reduction in additional expenditures has been embraced by guests and operators alike.

Sanitizing Products: With demand by guests still high, hotels continue to make hand sanitizing products an essential item.
Air Purification: Air purifiers that sanitize indoor air will remain a top priority for hotels, as the new norm of protective sanitation becomes fully expected by guests.
Safer Dining Areas: Guests now trust that hotels are taking the necessary precautions to keep them safe and healthy during their stay. Everything from protective buffet guards to hands-free soap dispensers to touchless restroom sinks and toilets are now a common expectation.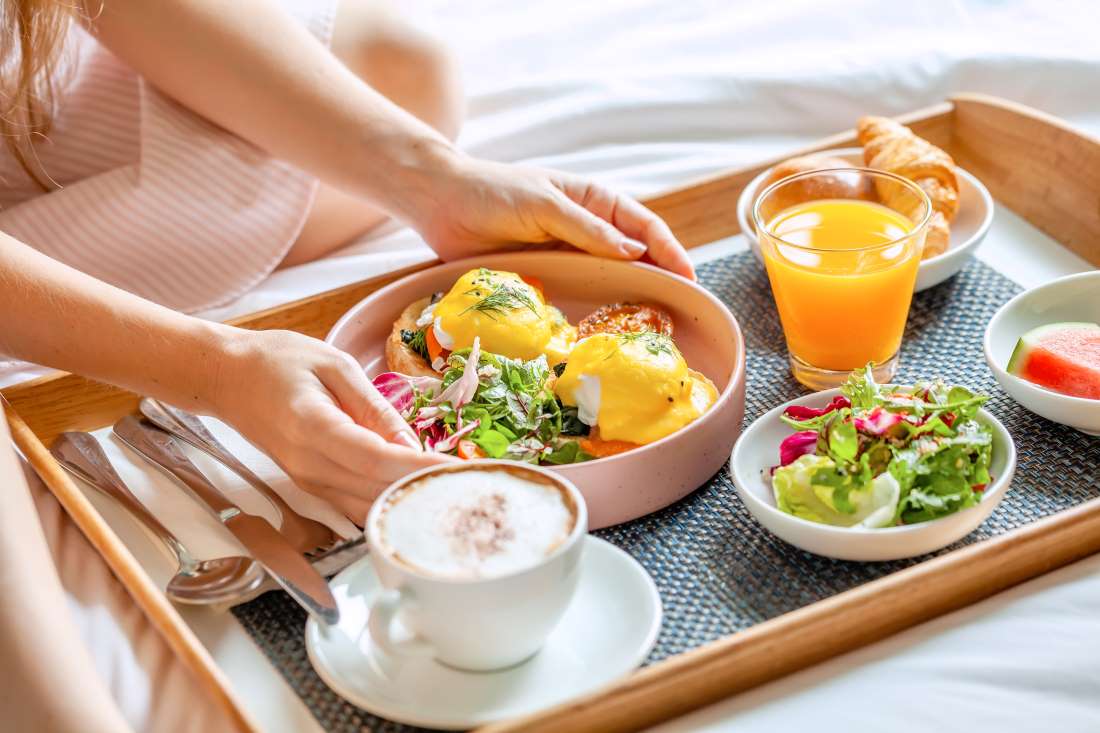 Current Food & Beverage Trends
Industry insiders will tell you that long before the pandemic, food and beverage revenues have been steadily increasing each year. We'll tell you why. Here are a number of trends behind this uptick that have guests engaging with hotel offerings.
Self-Serve Grab-and-Go: Time is a commodity that today's guests value more than ever before. So, providing access to fresh, healthy food and beverage options has become a standard. You'll find that implementing a 24/7 micro market or self-service kiosk that is stocked with hot and cold food and drink options in dispensers can be well worth the initial expense. Adding packaged liquor sales of wine, beer or cocktail components is an easy revenue enhancement and guest convenience.
Third-Party Delivery: Hospitality companies are leveraging partnerships with apps, like DoorDash and GrubHub to facilitate food-and-beverage deliveries to at-home customers with telephone and online orders. From full meals to kits for preparing signature dishes, the hotel experience is now available at home.
In states where it's legal, we see an increase in at-home alcoholic drink deliveries attached to food orders. The additional offering is giving hospitality companies an opportunity to impress customers, where the majority of national chains can't.
Healthy and Organic Options: Trends in society eventually find their way into all other aspects of life, that includes the hospitality industry. For example, the cultural shift to a healthier eating lifestyle has the industry revamping menus with healthier food and beverage options, including gluten-free, dairy-free, low fat, vegetarian, vegan, low sugar and organic options. Fermented beverages and teas, especially those containing probiotics and kombucha allow you to display health-conscious drinks that guests will appreciate and enjoy.
Local Love: When most guests travel, they tend to want to experience the best of what's available locally. As a result, guests are now expecting locally produced food and beverage offerings with their stays. Everything from local and regional cheeses, spirits, beer, and wine are in high demand on today's menus.
Trends that Will Leave Guests Hungry for More
With projected growth expected to continue to climb well into the billions, the industry will see developing trends come to fruition relatively quickly. What are these newer trends you ask?
Indoor & Outdoor Dining Spaces: One of the key trends taking shape in the industry is the development of outdoor spaces for guest engagement. Guests are looking for more and more chances to enjoy the outdoors, even indoors. This trend is one that should be taken into account when accommodating these other foodservice trends in your development plans. Outdoor and indoor spaces, such as rooftop bars, casual outdoor dining areas, patios and more can benefit from the right furniture options, outdoor lighting, fire pits and heat lamps, revitalized window walls and more. Check out these additional outdoor space trends.
AI Technology: No longer far-fetched, artificial intelligence, along with robotic automation is a trend developing within the hospitality industry. Some hotels and similar businesses already use robots in a variety of roles, but this quickly advancing technology is poised to help the food and beverage segment by seating customers and providing menu information to name a few initial uses.
Reducing Waste: Environmentally and socially active customers are seeking sustainable businesses. Positive food and beverage experiences for these guests means reducing waste wherever possible. This is achievable in a number of ways: from locally sourced ingredients to displaying items in bulk bins and food and beverage dispensers, to cooking with the whole animal and plant, as much as possible. Careful that you use suitable packaging that can be ethically disposed of if offering delivery or take-out items. By making guest engagement with your brand a positive one, you're helping them re-engage with your brand again and again.
Plant-Based Foods: While it might seem specialized now, catering to vegetarian and vegan guests with plant-based items on your menu is a trend that will help you increase your food and beverage revenue.
What's On Your Menu?
Ensuring your food and beverage service grows like the rest of the hospitality industry is an opportunity for the continued financial success of your business. That's why Global Industrial is here to help serve up the foodservice essentials and value-added solutions you need to deliver for your guests. From cooking equipment and dishwashers to dispensers and organizers to outdoor furniture and fixtures to cookware, serveware and more. You name it, Global Industrial has you covered and your guests full.
Learn more about how we can help you satisfy your appetite for success in the hospitality industry by connecting with one of our Global Industrial sales representatives at 888.978.7759 or contacting us here.
The information contained in this article is for informational, educational, and promotional purposes only and is based on information available as of the initial date of publication. It is the reader's responsibility to ensure compliance with all applicable laws, rules, codes and regulations. If there is any question or doubt in regard to any element contained in this article, please consult a licensed professional. Under no circumstances will Global Industrial® be liable for any loss or damage caused by your reliance on this article.