ALL YOU NEED TO KNOW ABOUT PALLET JACKS AND TRUCKS
Choosing the right equipment can enhance your team's productivity, lower the risks of accidents and injuries in the workplace and keep your workflow moving like a well-oiled machine. Pallet jacks come in various lengths, widths, raised and lowered heights, and capacities; it's essential to understand what factors to keep in mind. When you're considering the right warehouse pallet jack, here's what you need to think about:
Measurements – Length, width, and height are key factors.
Type of pallet jack – Are you looking for a manual or electric pallet jack, or will you need something with multi-directional capabilities?
Maneuvering – Do you need to move quickly, tilt pallets, or work in tight spots?
Place – What's the terrain like in your warehouse?
The Pallets – Are you moving industrial-size materials or regular pallets?
Now, Let's Talk Measurements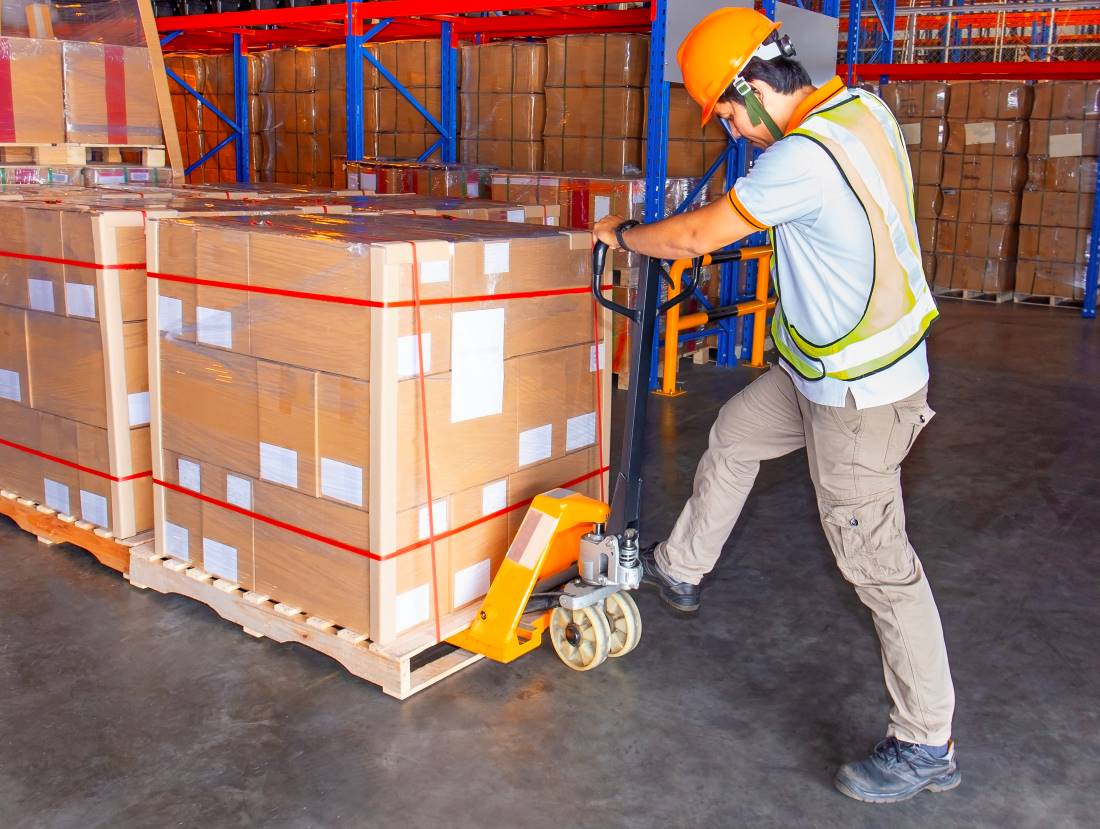 Size Does Matter Here
Start by analyzing your current fleet of pallet jacks and the measurements and terrain of your warehouse or storage facility. You want to find the right equipment to handle your workplace's warehouse racking jobs.
Length and Width
Pallet jacks are available in various lengths and widths. The base of a pallet jack is longer to move material horizontally on forks. Because different environments have different requirements, pallet jacks are available in several fork lengths and widths. If you select a pallet jack with forks that are too short or narrow, you may not be able to carry the material you need. If you choose one with forks that are too long or wide, it can be challenging to maneuver. Consider the size of the material your team needs to move most often; that will help determine the proper length and width. Adjustable models can help take the guesswork out of finding the right length and width, offering flexibility to be used with various materials and pallet sizes.
Lift Height
Some pallet jacks offer built-in lift options to move material off the floor, safely stack it or place it elsewhere, and lift and lower it to the precise height for ergonomic loading and unloading. Depending on the machine, the material can be raised between 3 and 8 feet off the floor—or higher. Hoist attachments can also be installed onto standard pallet jacks to lift and lower loads to and from elevated work areas. High lift pallet jacks are also available.
Capacity
How much weight will you need to move? Knowing that number will help you decide on the right pallet jack. It's important not to overburden material-handling equipment to avoid downtime and injury.
Pallet jacks are generally designed to support heavy weights—between 2,200 and 6,600-plus pounds. If you're moving a lot of weight, a pallet scale truck might be the solution you're looking for. Just make sure you always review the product manual to ensure you're not overloading the unit by exceeding its safe weight capacity.
Do You Want Manual or Self-Propelled Electric?
Pallet jacks and trucks are available in manual and electric models.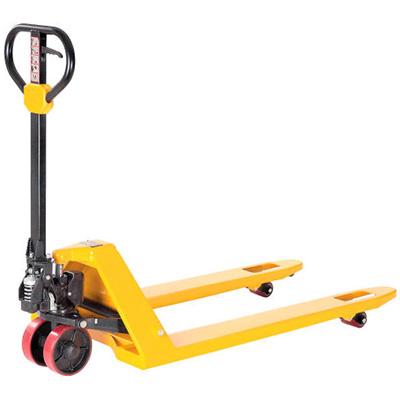 Manual Hand Pallet Trucks
Manual hand pallet trucks are ideal for light loads and tight spaces. The operator's weight drives the material forward by manually pushing or pulling a pallet jack. Because they have no electronic components, these pallet jacks are easy to maintain and rarely require repair. Manual pallet jacks can strain the operator and be cumbersome depending on the weight of the material being transported or lifted.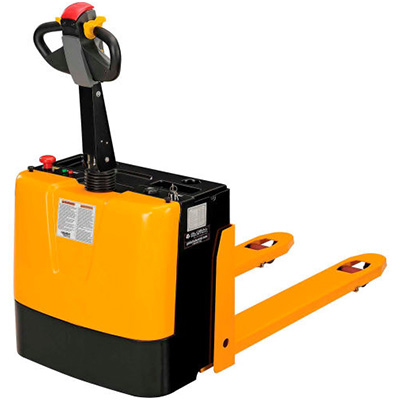 Electric Pallet Trucks
Electric pallet trucks are ideal for large spaces and big, heavy loads. A small electric motor propels the equipment forward, reducing operator fatigue and labor costs. Electric pallet jacks require charging, so planning for downtime while batteries recharge is essential. An electric pallet jack may need occasional maintenance and repair, as with any electronic equipment. Some self-propelled pallet jacks with scales are available if weight needs to be accounted for before a lift.
Consider This
Other things to think about when considering manual or electric pallet jacks are whether you'd like something with an adjustable fork to move a wide variety of pallet sizes and materials.
Dual-directional or multi-directional jacks are excellent at making perpendicular movement for easy handling in tight spaces, such as narrow aisles. All-terrain options exist to transport loads outdoors or along rough, uneven surfaces.
Wheel-nosed pallet jacks are perfect for handling tightly positioned pallets and are great at getting to and moving closely positioned pallets. Roll-moving pallet jacks are the right equipment to move heavy industrial rolls of material.
Key Questions to Ask Yourself
Consider additional features that might aid your team's overall safety and efficiency. Ergo handle pallet trucks, for example, have a unique ergonomic-shaped handle and lever that provide comfortable operation while moving loads up to 6,500 lbs. A versatile pallet jack scale truck improves safety and productivity by combining the features of a pallet jack truck with a portable scale/sensor.
Do you have all the necessary measurements to find the right pallet jack?
Are you looking for a manual or a self-propelled electric solution?
What are the weights and volumes of inventory you'll be moving?
Global Industrial Is Your #1 Partner for Pallet Jacks and Trucks
Global Industrial has a number of your solutions to help you move high volumes and handle extra inventory in any warehouse or storage facility layout. Connect with one of our Global Industrial pallet jack sales representatives at 888.978.7759 or contact us here for help finding the right pallet jacks and trucks for your job site.
The information contained in this article is for informational, educational, and promotional purposes only and is based on information available as of the initial date of publication. It is the reader's responsibility to ensure compliance with all applicable laws, rules, codes and regulations. If there is any question or doubt in regard to any element contained in this article, please consult a licensed professional. Under no circumstances will Global Industrial® be liable for any loss or damage caused by your reliance on this article.