Plan for Deferred Maintenance
Let's face it: it's human nature to put off to tomorrow what we can do today. If it's not critical, we kick the proverbial can down the road and assume that we'll get to what needs doing when we have some downtime. However, in a warehouse, this is a very slippery slope. Unable to predict the future, we have no idea if we will have the time to get to things like maintenance or part restocking until it's too late. Postponing or deferring maintenance and repairs to save time or money upfront can have negative consequences in the long term. If not addressed, deferred maintenance can lead to a decline in the condition of the warehouse or machinery, which then affects everything from efficiency to safety; not to mention, it can also result in the need for more expensive repairs in the future. Whether you refer to slow periods as an off-peak season or the winter season, there truly is no off-season when it comes to ensuring your warehouse, workflow and equipment are all optimized. In short, there is real value in the down time. By taking the time to intelligently forecast what your warehouse will need and prioritizing regular maintenance, you can take advantage of deferred maintenance. To help, we've created both a core checklist of responsibilities and a list you can reference for winter season downtime.
There are several steps that warehouse managers can take to be proactive that will change the mindset of downtime within their warehouses:
1. Develop a regular maintenance schedule | Plan everything. Schedule how and in what order you will accomplish all that needs doing. This includes tasks such as cleaning, inspections, and even those repairs that are performed on a regular basis. Remember to assign specific tasks to specific people.
2. Set aside a budget for maintenance and repairs | Don't assume operating expenses will be on your side. Take the time to allocate funds specifically for this purpose so that there is always money available when needed. Knowing what is worth repairing and in what order is key to managing and maintaining profitability.
3. Take inventory of what's needed | Take time to assess stock of everything from parts to fluids to tools. Don't forget, of course, to start with a thorough review of all the things you'll need to do the maintenance that's required!
4. Prioritize safety | Be sure to plan to repair the equipment and tools that bring the most risk. Regular maintenance and repairs of these items can help ensure that the warehouse is safe for employees and visitors. By preventing accidents and injuries, you can avoid lawsuits, employee downtime, and remain compliant with OSHA standards.
5. Stay organized | Create your personalized program of deferred maintenance that allows you to keep track of all maintenance and repair activities, including the dates they were performed and any issues that were addressed. This helps you create a track record that enables you to predict and identify potential problems before they become worse.
6. Communicate | Speak to your employees about what they see coming and how they would approach downtime in the warehouse. Your employees are the most knowledgeable about the condition of equipment and tools and can help to identify trends and patterns, and in the long run, will improve budgeting and planning.
By applying these guidelines, warehouse managers can avoid the negative consequences of deferred maintenance and ensure that their warehouses are well-maintained and safe.
Our goal at Global Industrial is to enable you to get the most value out of your deferred maintenance plan. To learn more about how we can help you, reach out to one of our Global Industrial sales representatives at 888.978.7759 or contact us here.
Winter Prep Checklist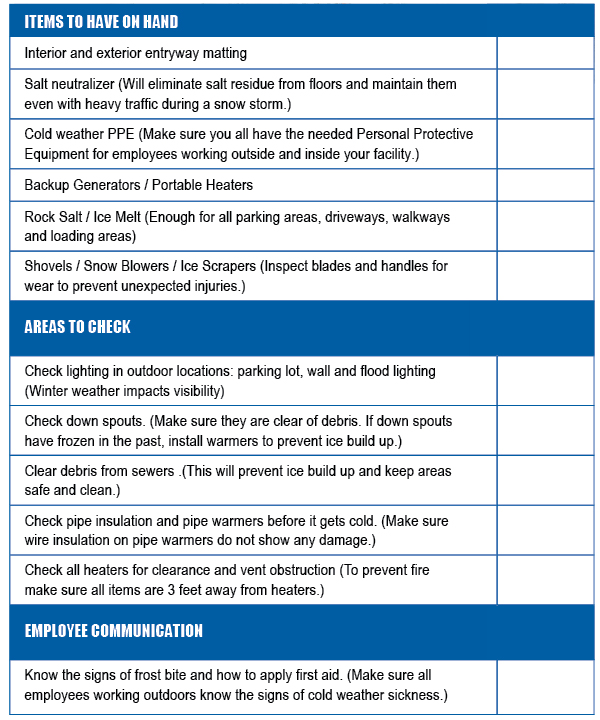 The information contained in this article is for informational, educational, and promotional purposes only and is based on information available as of the initial date of publication. It is the reader's responsibility to ensure compliance with all applicable laws, rules, codes and regulations. If there is any question or doubt in regard to any element contained in this article, please consult a licensed professional. Under no circumstances will Global Industrial® be liable for any loss or damage caused by your reliance on this article.