Spring into summer with the latest outdoor spaces trends.
A 2022 report by the National Association of Homebuilders states that 58% of surveyed homeowners want a connection with nature or the outdoors.[1] But it's not just residences that are seeing this change in focus. Businesses everywhere are placing an even greater importance on the health and mental wellbeing of their employees, especially since we've changed our working habits after the 2020 pandemic.
The former indoor "perks" that many corporations offered as incentives, including pool tables, kombucha on tap, and even bean bag chairs, are now being seen as fluff or simply "nice to haves." Instead, employees, students and guests are looking for more substantive alternatives to the cubicles, kitchens, and breakrooms. And by far the leader of this new is being able to work and take breaks in thoughtfully-designed outdoor spaces, complete with healing sunshine and shaded areas.
The clear message is that a connection to Earth and mother nature is highly prized by people in all professions. And by creating these outdoor environments, you can not only retain and attract top-tier talent, but also encourage remote employees back into the office for a hybrid working experience.
A LinkedIn editorial, updated in 2022, states that there are six tangible benefits that well-maintained outdoor spaces can give your employees.[2] These are:

Increased happiness and mood
Improved energy levels
Stress relief
Relief for the eyes and brain
Health from extra Vitamin D
Improved/enhanced memory

What's also important is knowing the latest trends in outdoor spaces, and what people are currently looking for from an outdoor environment. An old park bench and an area sectioned off for smokers just isn't going to cut it. But remember, you don't have to create a stunning outdoor space in one fell swoop. This can be done over time, starting with a relaxing area that you can build upon over time based on budget and seasonality.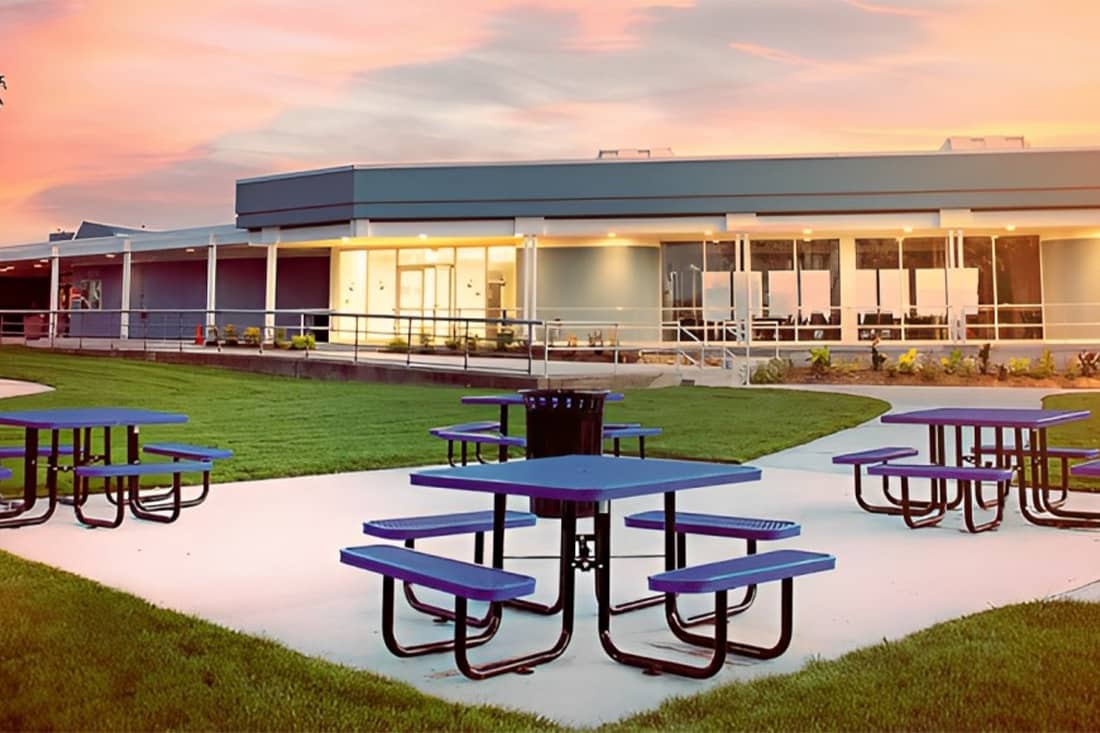 Trend 1 - Blurring the line between indoor and outdoor environments.
The clear delineation between the indoor dining area and the outdoor tables and chairs does not have to be so rigid. Companies have already found ways to bring the outdoors in, and vice versa, through the use of folding glass doors (or even overhead rolling doors) to allow indoors spaces to get the benefits of natural light and fresh air, whilst letting those in the outdoor environment feel connected to those inside. Strategic use of planters and other outdoor elements can also merge those lines even more. This can also work with meeting rooms and break rooms, with retractable patio awnings offering shade from direct sunlight. Picnic tables are also versatile enough to be used both indoors and outdoors.


Trend 2 - More of the outdoor comforts of home.
You don't have to stock your commercial property with furniture and accessories that look like they're all work and no play. Functional steel benches will always have a place, but there are now some incredible, beautifully designed options for outdoor furniture that would look at home in any employee's backyard. These include all-weather sofas and loveseats (complete with soft cushions), firepits (check with your OSHA representative for safety), rocking chairs, hammocks, patio lights, Bluetooth speakers, weatherproof rugs, and of course, plenty of power outlets to charge phones, laptops, and tablets.


Trend 3 - Make outdoor areas accessible in all seasons.
Way too many facilities make the mistake of thinking the outdoors is only for the warm weather, and those patio tables and umbrellas get put away in winter. That's a wasted opportunity. Along with firepits, think about other ways to keep outdoor areas open for business year-round. Employees still want that fresh air even when the sun isn't beaming, so consider patio heaters for the cooler months (and perhaps those after hour meetings and get-togethers). And for those times when the sun really is blazing, offer misters, fans, and water bottle fill stations to keep your people hydrated and healthy. And for shade offer different kinds of patio umbrella (cantilever, long pole) for more versatility. Oh, and don't forget the all-weather trash cans to keep your area clean.


Trend 4 - Privacy is still a consideration outdoors.
Anyone choosing to work outside, or have an important meeting, may also want to retain some element of privacy that they'd get from a meeting room or office. While you can't quite create the full closed-door experience, you can section off areas of your outdoor space with carefully-placed planters, outdoor silk trees and plants, and horizontal fencing. This provides a little more privacy than a completely open space.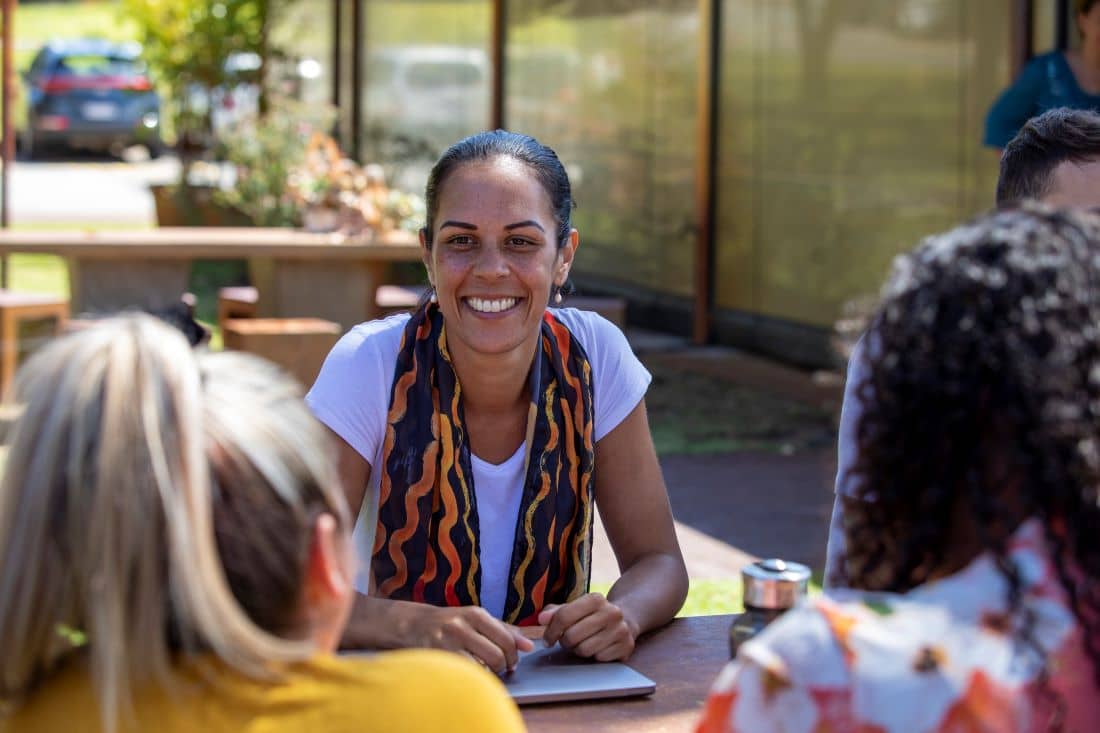 By offering just a few of these outdoor area perks, and adding to them over time, you can build an area that is not only beneficial to the health and well-being of your employees and/or students & guests, but also makes them more productive. And if you have any questions about setting up an outdoor area, or transforming your current one, please feel free to reach out to our Global Industrial experts who'll be happy to talk through the many options you have on any budget.

NAHB
LinkedIn

The information contained in this article is for informational, educational, and promotional purposes only and is based on information available as of the initial date of publication. It is the reader's responsibility to ensure compliance with all applicable laws, rules, codes and regulations. If there is any question or doubt in regard to any element contained in this article, please consult a licensed professional. Under no circumstances will Global Industrial® be liable for any loss or damage caused by your reliance on this article.