New Account Features

Order Management Power
We understand the importance of knowing where your order is and when you will receive it. In addition to email communication and tracking tools, SMS text alerts keep you up to date while you are on the go. Track your order delivery or return status, cancel an order, or get any other information you need about your order at any time.

AUTO REORDER
Auto Reorder is one of our best new features! Use it to auto reorder the products you need on a regular basis - like janitorial and maintenance products for example - or seasonally - like hand sanitizers and snow melt material. Auto reorder means you won't run out of anything - ever.

With auto reorder, you can manage, edit, and customize your orders in one place. Simply go to your last order, check the products you want to auto reorder, set the quantity and frequency of delivery - and that's it. Those products will be there when you say so.

Our quick auto reorder button is right on the product detail page.

ONLINE RETURNS
Your experience matters to us. That's why we're leading the industry in adopting a truly seamless online return process.
If you need to return something - for whatever reason - it should be easy. We've removed the hassle and we are proud to offer our new online return process to make returning an item fast, easy, and hassle-free.
Easily initiate item returns from your order history in your account. Answer some questions online and tell us how you would like the return processed, print out a shipping label, and ship it back to us.

Our adding tracking status features gives you the ability to track your return every step of the way, so you can see exactly where your return package is in the process.


* Please note that some products may not be eligible for online returns due to size or weight.
Replacement Parts
Finding the right replacement parts is always difficult, so we have simplified the process by giving you easy access for the correct replacement parts for your product. Replacement parts can be found partnered with your order history or on the product detail page.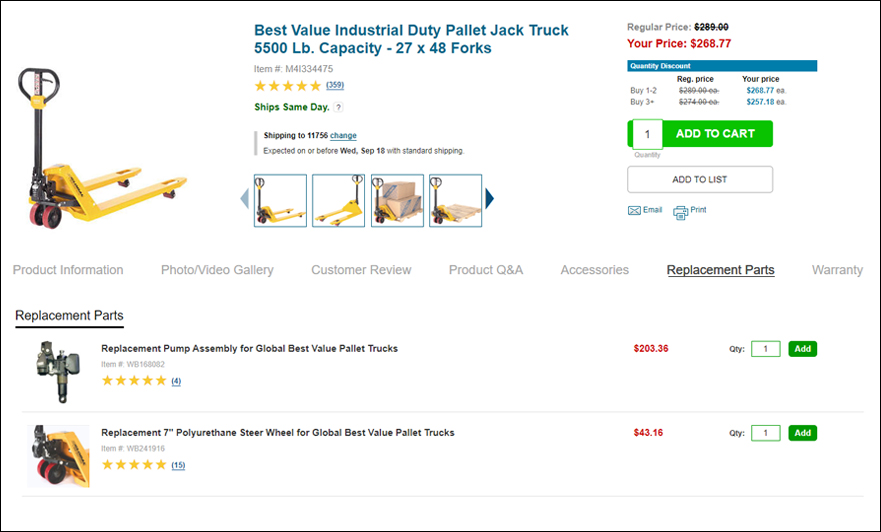 improved lead time and Order Tracking
With warehouses across the nation, including our new 500,000-plus square foot facility in Texas, we've improved lead times and deliveries all over the country.
Plus, you can now follow the progress of your order(s) from our facility to yours. Our upgraded order tracking tools show you exactly when it left us, where it currently is in the process, and when it will be at your doorstep. Sign up for text alerts so you can manage it from your phone, tablet, or PC - anywhere, anytime.
We're making it easier than ever for you to access all the information you need about your order - right at your fingertips!