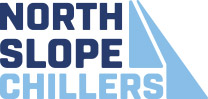 WE OPTIMIZE OPERATIONS WHEN THE HEAT IS HIGH
AVAILABLE IN 3 PERFORMANCE LEVELS
FOR LITE INDUSTRIAL APPLICAIONS

45°F

COOLNG CAPACITY

85°F

This lite industrial portable chiller system is a fantastic entry-level unit if you are ready to test the waters with chilling. Ideal for single container/application chilling, Frost creates consistent chilling that will maintain temperatures as cool as 45°F. Frost will help you maximize lite industrial applications.

Shop Now

THE COLD STANDARD

40°F

COOLNG CAPACITY

75°F

Meet the compact chiller that is dependable and powerful. Freeze is North Slopes Chillers' standard industrial chiller that cools fluids between 40°F-75°F (1/2-2 ton) and 40°F-65°F (5-10 ton). A workhorse, Freeze boasts a robust condensing unit and high horsepower. This is a lot of chilling power in a little package.

Shop Now

HOW COLD CAN YOU GO?

-112°F

COOLNG CAPACITY

70°F

For supreme industrial chilling, look to Deep Freeze. Deep Freeze shares many of the same hefty qualities of Freeze, along with the capacity to cool from -112°F to 70°F (depending on model) and fully insulated internal parts to ensure no internal temperature loss. Keep your critical materials and equipment cool even in hot conditions.

Shop Now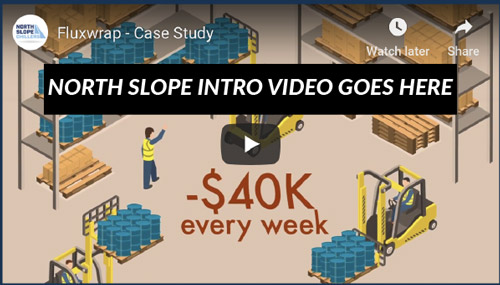 North Slope Chillers manufacturesa variety of sizes and cooling levels in order to address the varied needs of industrial chilling. For lite industrial processes, Frost by North Slope Chillers is an excellent choice. If your application requires serious chilling below 0°F, Deep Freeze Ultra-Low Temp is the winner. Welcome to North Slope Chillers. We invented chill.
Shop Now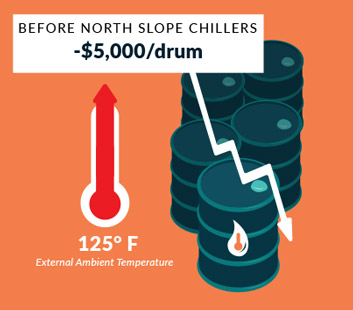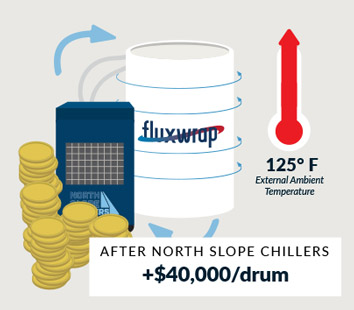 A large manufacturing company was losing up to eight 55 gallon drums of varnish, epoxy, and resins per week due to the hot humid conditions at their plant. North Slope Chillers supplied chillers and circulation blankets to stage on the production line and eliminated their material losses, saving them +$40,000/week.
SHOP NORTH SLOPE CHILLERS PRODUCTS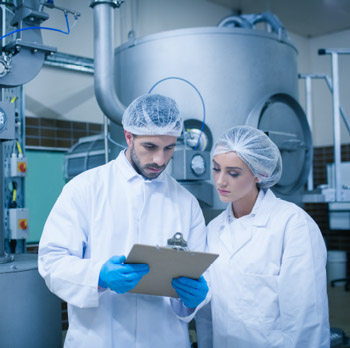 Often, a cooling solution requires engineering expertise and custom attention. As a leading industrial chiller manufacturer, North Slope Chillers is happy to create the complete cooling solution to quickly meet your needs.
North Slope Chillers' world-class engineering team solve every kind of temperature problem from simple to very complex. Our expertise and short turnaround time guarantee satisfied customers.
download custom questionnaire