WHO CAN USE ACTIONFIT EQUIPMENT?
By offering outdoor fitness as an added amenity to multi-family dwellings, universities, hotels, senior centers, and even fitness clubs, facilities can attract adults of all ages who enjoy exercising, which provides a valuable health and wellness benefit.

WHY INVEST IN OUTDOORS VERSUS INDOORS?
Emerging science indicates that exercising outdoors increases the overall enjoyment of working out as well as increasing the frequency and length of time spent, compared to indoor gyms. Outdoor equipment also provides a less intimidating atmosphere than a typical gym setting, particularly for beginners, providing a more approachable, welcoming environment.

HOW CAN COMMUNITIES BENEFIT?
Urban and lower income communities can particularly benefit from ACTIONFIT equipment by encouraging multiple generations to congregate, participate, and interact in outdoor fitness activities where they live, work, and play.

WHY FUND OUTDOOR FITNESS EQUIPMENT?
With multiple projects competing for recreational funding dollars, choosing to invest in ACTIONFIT equipment over other types of recreation options demonstrates a facility's commitment to offering patrons a valuable health benefit. ACTIONFIT equipment is accessible any time of day, is appropriate for multiple adult age groups, and becomes a fresh, new experience every time it is used.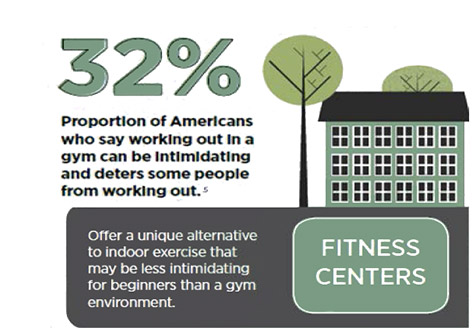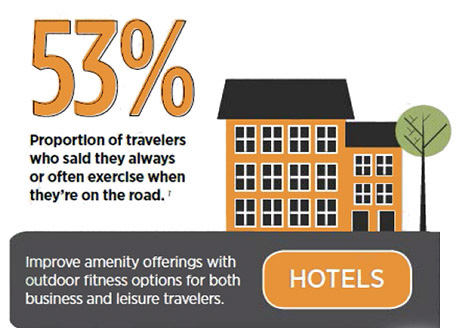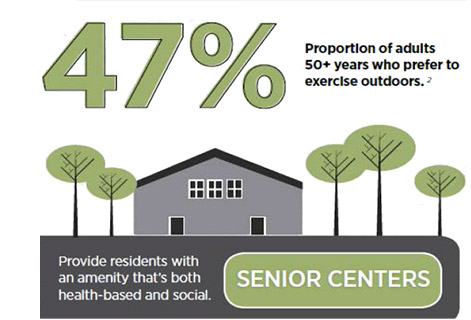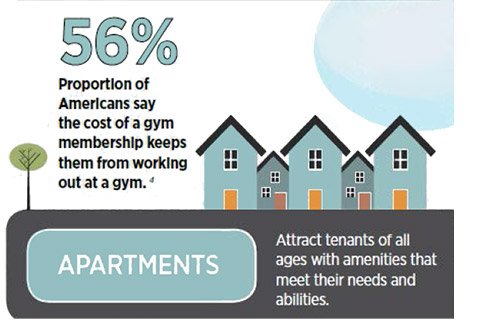 User Benefits
Physical Health
Reduces cardiovascular disease risk
Builds lean muscle and aerobic fitness
Improves exercise adherence
Increases energy
Mental Health
Increases serotonin levels
Boosts overall mood and well-being
Increases mentual acuity
Greater feeling of revitalization and positive enjoyment
Social
Provides opportunities for fitness classes
Encourages motivation and support
Attractive to new users and beginners

Facility Benefits
Economic
Expands amnity offering with low installation costs
Eliminates costly indoor utility fees
Provides options for revenue generation through trainers
Diverse
Encourages a wider variety of users
Builds positive community equity for facilities
Attractive
Recruits new patrons with value-added amenity
Exhibits facility's commitment to health of patrons
Provides a new way to exercise
Outdoor Exercise
National institutes of Health found people enjoy outdoor exercise more than indoor.
People who exercise outdoors are more likely to repeat the behavior.
People who exercise outdoors often engage in the activity longer than those who exercise indoors.
Outdoor exercise provides exposure to fresh air, nature, and vitamin D.
Utilize outdoor space for fitness rather than valuable indoor space.
More economical retrofit than adding an indoor fitness center.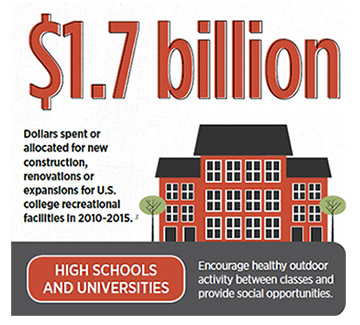 Equipment for Every Space
Universities and high schools
Hotels
Senior centers
Apartments
Fitness centers
Parks
Your customers can generate revenue with unique amenities, drawing more diverse and numerous patrons.
Physical Activity Needs & Implications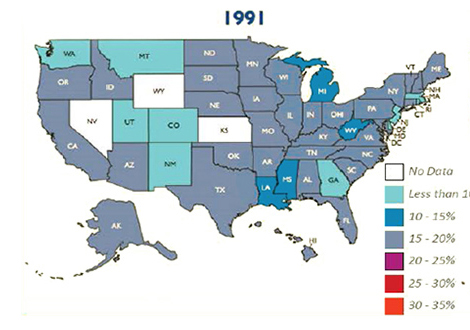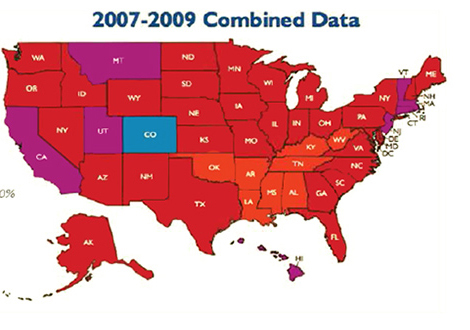 Fewer than 2 in 10 Americans currently get the recommended levels of regular exercise.
Only about 30% of adult Americans report they get regular physical activity during their leisure time.
There are over 80 million adults that have health issues related to overweight / obesity.
Medical costs associated with adult obesity is estimated from $147 billion to nearly $210 billion per year.
America's decline in physical activity has resulted in increased risk of disease, mental health issues, and premature deaths.
Sources: 1 TripAdvisor survey of 1,400 US travelers, July 18, 2012, 2 Assisted Living Executive, March/April 2011, 3 April 15, 2013, Amy Patterson Neubert, apatterson@purdue.edu, 4 Business Wire, June 24, 2013, 5 Business Wire, June 24, 2014.