User Benefits
Physical Health
Reduces cardiovascular disease risk
Builds lean muscle and aerobic fitness
Improves exercise adherence
Increases energy
Mental Health
Increases serotonin levels
Boosts overall mood and well-being
Increases mentual acuity
Greater feeling of revitalization and positive enjoyment
Social
Provides opportunities for fitness classes
Encourages motivation and support
Attractive to new users and beginners

Facility Benefits
Economic
Expands amnity offering with low installation costs
Eliminates costly indoor utility fees
Provides options for revenue generation through trainers
Diverse
Encourages a wider variety of users
Builds positive community equity for facilities
Attractive
Recruits new patrons with value-added amenity
Exhibits facility's commitment to health of patrons
Provides a new way to exercise
Outdoor Exercise
National institutes of Health found people enjoy outdoor exercise more than indoor.
People who exercise outdoors are more likely to repeat the behavior.
People who exercise outdoors often engage in the activity longer than those who exercise indoors.
Outdoor exercise provides exposure to fresh air, nature, and vitamin D.
Utilize outdoor space for fitness rather than valuable indoor space.
More economical retrofit than adding an indoor fitness center.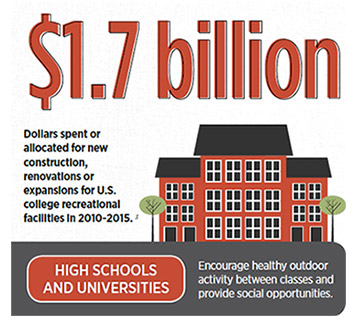 Equipment for Every Space
Universities and high schools
Hotels
Senior centers
Apartments
Fitness centers
Parks
Your customers can generate revenue with unique amenities, drawing more diverse and numerous patrons.
Sources: 1 TripAdvisor survey of 1,400 US travelers, July 18, 2012, 2 Assisted Living Executive, March/April 2011, 3 April 15, 2013, Amy Patterson Neubert, apatterson@purdue.edu, 4 Business Wire, June 24, 2013, 5 Business Wire, June 24, 2014.