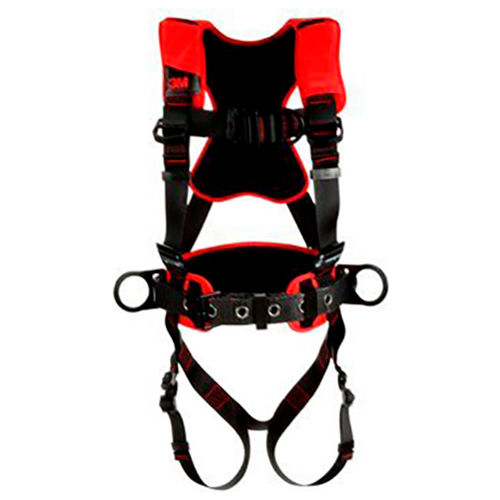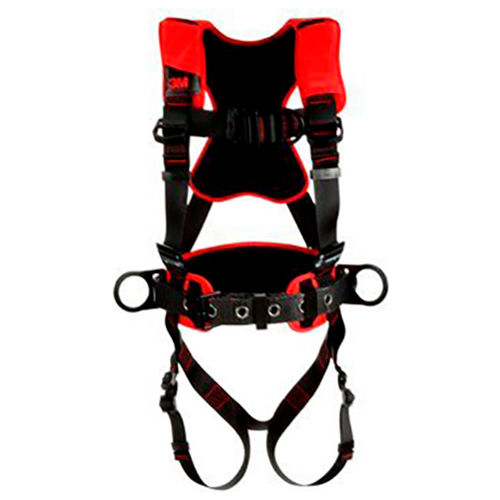 Model #: WBB2275208
MPN #: 1161211
3M™ Protecta® 1161211 Comfort Construction Style Climbing Harness, Pass-Through Buckle, XL
3M™ Protecta® 1161211 Comfort Construction Style Climbing Harness, Pass-Through Buckle, XL1161211
Hardware Features
Hardware features include Pass Thru Leg Connection, Pass Thru Chest Connection, Parachute Torso Buckle, Back, Front and Side D rings. The Back D ring provides a general fall arrest device connection point and is included on all models of 3M™ Protecta® Comfort Construction Style Harnesses. Side D rings located on hips are used for attachment of positioning devices to allow workers use of both hands.
Regulatory and Standards Compliance
3M™ Protecta® Fall Protection Harnesses are designed for a maximum capacity of 420 lbs (190 kg), including the worker's body weight, clothing, tools and other accessories. These fall arrest systems meet the requirements of OSHA 1910.140 and 1926.502.
Quality Standards
We rigorously test all our 3M™ Fall Protection safety products to ensure they meet global industry standards established by OSHA, MSHA, CSA and CE. Our ISO 9001 2008 certification and on site ISO 17025 accredited lab demonstrates our commitment to quality and safety.
Fundamentals of Fall Protection/OSHA Regulations
Fall hazards pose a significant risk of serious injury or death for people working at height. OSHA has set safety standards that help increase safety for employees whose jobs require working at heights. A personal fall protection system is critical to worker safety at height.
OSHA compliant personal fall protection systems typically include four components:
Anchorages, as defined by OSHA, are secure fall protection anchor points for attachment of lifelines, lanyards or deceleration devices, and are designed to remain secure under the forces generated during a fall arrest event. Anchorages vary by industry, job, type of installation and structure.
Body support¬ refers to fall protection equipment that directly supports the worker's weight and maintains the body in a safe position. Worker comfort, fit and ease of use are key considerations in the selection of body supp
Replaces Manufacturer Part Number 1191326
Easy-link web adapter enables fast and easy attachment of personal self-retracting lifelines and keeps the D-ring available for lanyards, overhead SRLs or rescue devices
Fixed D-ring reduces the need for readjustment throughout the workday
Specifically designed for added comfort
Moisture-wicking, breathable back padding with soft edging for added comfort
Foam hip pad with mesh provides extra comfort and breathability
Durable and sturdy belt for tool bag-carrying convenience
OSHA-compliant auto-resetting lanyard keepers for fast and easy parking of snap hooks and carabiners
Impact indicators make it easy to inspect the harness for prior damaging impact loads
Protected labels for long-term identification and inspection