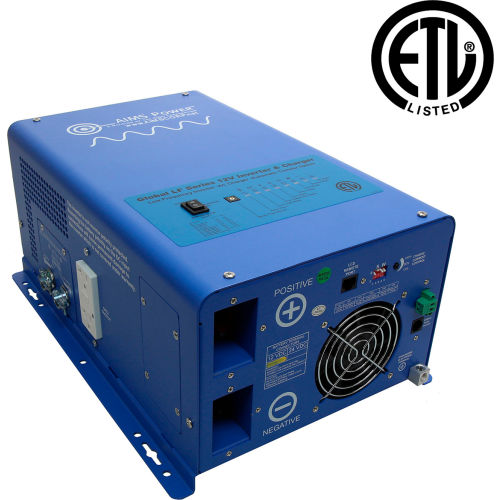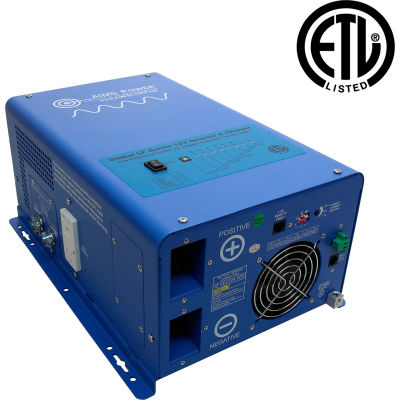 Model #: WBB1789580
MPN #: PICOGLF20W12V120VR
AIMS Power 2000 Watt Pure Sine Inverter Charger, PICOGLF20W12V120VR
The 2000 watt 12 volt low frequency AIMS Power inverter charger transforms DC (direct current) power, stored by batteries, into AC (alternating current) electricity that can be used to run your various tools and appliances. This inverter also has a built in AC-to-DC battery converter charger, which allows users to recharge their battery bank from an AC source such as a fuel-powered generator, shore power or a regular outlet at home. The built in battery charger features a seven type battery selector and 3 stage charging, for safely and effectively charging your battery source. Use this product for renewable solar, off-grid, mobile and emergency backup power applications anywhere that uses 110 or 120 volts of alternating current. This product also has auto frequency detection that allows users to operate at either 50 or 60 hertz.
Features:
2000 watt low frequency inverter
6000 watt surge for 20 seconds 300% surge capability
Battery Priority Selector
Terminal Block
Marine Coated and Protected
Multi Stage Smart charger 40 Amp
remote panel available
auto frequency
10msec typical transfer time
optional 25W power save mode
7 battery type settings for charger
Inverter Output Specifications:
Continuous Output Power: 2000 Watts
Surge Rating: 6000 Watts (20 Seconds)
Output Waveform: Pure Sine/Same as input (Bypass Mode)
Nominal Efficiency: >88% (Peak)
Line Mode Efficiency: >95%
Output Frequency: 50Hz +/- 0.3Hz / 60Hz +/- 0.3Hz
Typical Transfer Time: 10ms (Max)
THD: < 10% DC
Input Specifications:
Nominal Input Voltage: 12.0Vdc
Minimum Start Voltage: 10.0Vdc
Low Battery Alarm: 10.5Vdc-11.0Vdc
Low battery Trip: 10.0Vdc-10.5Vdc
High Voltage Alarm: 16.0Vdc
Low battery Voltage Restart: 15.5Vdc
Idle Consumption: <0.5 amps AC
Power Saver Mode Idle Consumption: <1 amps AC
Charger Specifications:
Output voltage: Depends on battery Type
Charger Rate: 40A
Over Charge Protection Shutdown 15.7V
Selectable Charge setting based on battery type
Adjustable charge current off-20%-100%
Four Stage Smart Charger
Transfer Switch Specifications:
30 amp automatic transfer switch
10 ms (max)
Dimensions
Unit Weight: 41 lbs.
Unit Size L x W x H: 17.40 x 8.59 x 7.05 inches
Shipping Weight: 47 lbs.
Shipping L x W x H 22.83 x 12.40 x 11.81 inches
Review This Product
Help us improve your experience with this product.
Review This Product
Help us improve your experience with this product.
Get to know about this product from customers who own it.