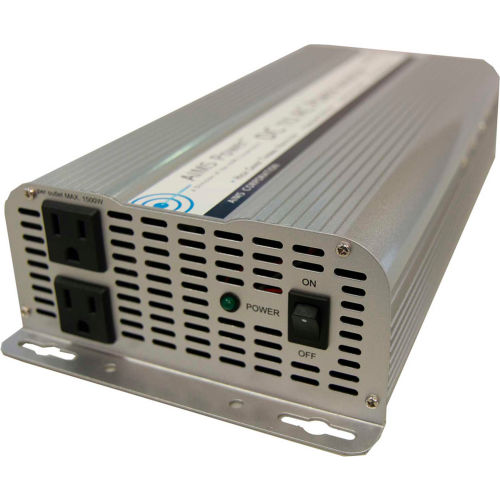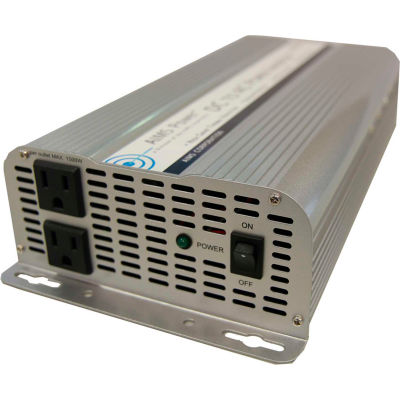 Model #: WBB1789556
MPN #: PWRB2500
AIMS Power 2500 Watt Value Power Inverter, PWRB2500
The AIMS "no-frills" inverter is a straightforward, 2500 watt modified sine inverter. Easy to install and use, this inverter is essentially plug and play. Cooling fans are continually operational and the AC power is provided to two 3 prong receptacles on the front of the inverter, each rated for 1500 watts max. Great for recreational and back up use, this inverter will provide you the power you need when AC power is unavailable. If you are looking for an inverter with a few more features, be sure to check out the PWRINV250012W, which includes a thermally controlled fan, remote port, and digital meters.
NOTE:
Cables not included with unit
Features:
2500W max continuous power
Modified sine wave
Over Temperature protection
Over Load protection
Dual ac receptacle that can be split with a separate splitter if extra outlets are needed
On/off switch
Convenient always on dual cooling fan operation
Internally fuse protected
ac output short circuit protection
Auto reset on most fault conditions
Battery terminals are designed to conduct more current therefore requiring only one set of cables.
Aluminum case for optimal cooling
Pre-slotted mounting plate
Instruction manual
Free 1 year tech support
1 Year Warranty Parts and Labor
Specifications:
Continuous output power: 2500 Watts. Use 200 amp inline fuse.
Surge power capability (peak power): 5000 Watts
dc input / operating voltage: 10 to 15 Volts
Output voltage: 120 Volts ac +/- 10%
Output wave form: modified sine wave with phase correction
Output frequency: 60 Hz +/- 1 Hz
Battery low voltage alarm: 10.5 +/- 0.5 Volts
Battery low voltage shutdown: 10.0 +/- 0.5 Volts
AC amps: 21
DC amps: 208
No load current: 2.5 Amps with switch in the on position (because fans are always on) See PWRINV2500 if you don't want always on fans.
Full load efficiency: 90%
1/3 load efficiency: 95%
No load minimum operating temperature: -15 degrees Celsius
Full load maximum operating temperature: 55 +/- 5 degrees Celsius (automatic shutdown)
AC Output Socket Type: dual Type 2 -3 prong
High input voltage protection: 15V-17V
Low input voltage shutdown: 10V
Internal fuse protection
Product size (L x W x H): 14.5"X 6.5"X 3.0"
Unit Weight: 6.1 lbs Boxed Weight: 8 lbs
UL maximum recommended per outlet 1500W
Review This Product
Help us improve your experience with this product.
Review This Product
Help us improve your experience with this product.
Get to know about this product from customers who own it.