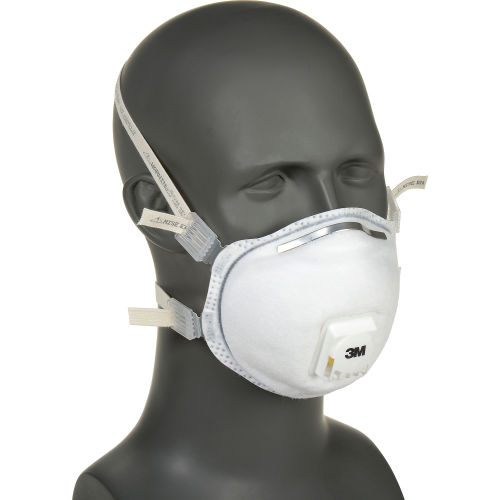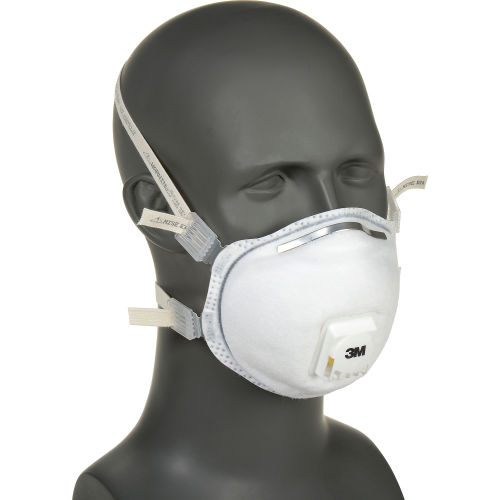 Model #: WBB722203
MPN #: 7000002027
3M™ 8212 N95 Disposable Particulate Welding Respirator Mask, w/Faceseal, 10/Box
3M™ Particulate Welding Respirator, With Faceseal, N95, 10/Box
The lightweight, disposable N95 particulate respirator is designed to help provide respiratory protection for certain non-oil particles in applications such as welding, soldering and other operations in which metal fumes may be present. 3M uses a variety of innovative technologies and features to help you meet your respiratory protection and comfort needs. The specially designed cake-resistant filter media provides longer respirator life. The respirator incorporates 3M's proprietary technology with advanced electrostatically charged microfiber filter media, designed for ease of breathing. The 3M™ Cool Flow™ Exhalation Valve, incorporating proprietary technology, reduces heat build up inside the respirator to help keep the wearer more comfortable. These combined features, along with the foam faceseal and fully adjustable straps are designed to help enhance user comfort and increase wearability.
Features:
N95 Approved filtering facepiece particulate respirator
3M™ Cool Flow™ Exhalation Valve
Comfortable foam faceseal
Cake-resistant filter media
Flame resistant per ASTM D2859
Compatible with a variety of protective eyewear and hearing protection
Adjustable noseclip reduces potential for eyewear fogging and helps ensure a better seal and fit.
Fully adjustable headstraps help provide a secure fit.
Suggested applications: Welding, torch cutting, brazing, soldering, metal pouring.WARNING: These respirators help reduce exposures to certain airborne contaminants. Before use, the wearer must read and understand the User Instructions provided as a part of the product packaging. In the U.S., a written respiratory protection program must be implemented meeting all the requirements of OSHA 1910.134 including training, fit testing and medical evaluation. In Canada, CSA standards Z94.4 requirements must be met and/or requirements of the applicable jurisdiction, as appropriate. Misuse may result in sickness or death. For proper use, see package instructions, supervisor, or call 3M OH&ESD Technical Service in USA at 1-800-243-4630 and in Canada at 1-800-267-4414.
AUTO-REORDER from GlobalIndustrial.com ensures you don't run out of essentials to make your life easier.
Eliminate the need for reminders and repetitive orders.
Customize your order frequency, delivery schedule, and quantity with just a few clicks.
Automatic email notifications keep you in the loop before every order.
It's completely FREE and you can cancel anytime from your profile.