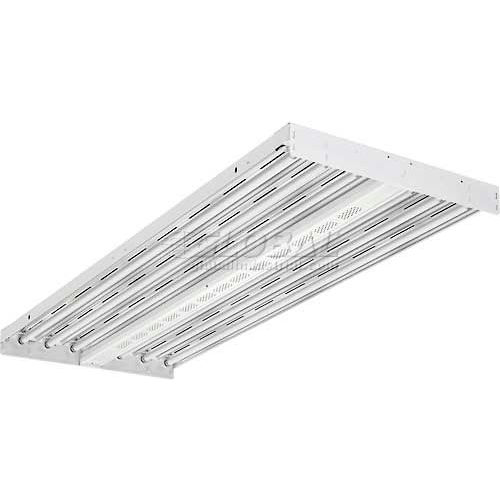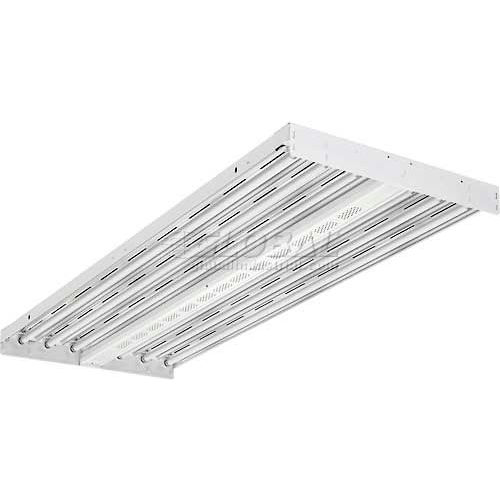 Model #: WBB547817
MPN #: IBZ 654L WD GEB10PS90
Lithonia IBZ 654L WD GEB10PS90 6 Lamp (Included) Fluorescent High Bay, 54W T5HO, 4100K, Wide Dist
The I-BEAM® IBZ is an energy-saving fluorescent high bay solution that is an ideal one-for-one replacement of common metal halide high bay systems. Its configurable design supports many options and accessories that would satisfy almost any High Bay application. Typical applications include manufacturing, warehousing, institutional and retail facilities. Certain airborne contaminants can diminish integrity of acrylic. Refer to Acrylic Environmental Compatibility tables for suitable uses.

Listings:
CSA Certified to U.S. and Canadian standards.

Construction:
The configurable design of the I-BEAM IBZ allows wireguards, lenses, tandem kits and sensors to be quickly installed in either our factory or in the field. The Integrated Modular Plug (IMP) feature further enhances the flexibility by allowing plug-and-play components such as sensors and photocells.

Optics:
The optics are engineered to be both highly-efficient and manage the heat generated by the lamps. The thermal vents convect heat rapidly to reduce dirt depreciation by pulling heat and contaminates out of the reflector and away from the lamps.

Electrical:
Using the most advanced ballast technology available, the Cool Running Plus Technology ballast is integrated into the T5HO IBZ System to provide reliable operation in ambient environments up to 155°F (68°C). This ballast features independent lamp operation, thermal response to regulate the ballast case temperature, and an enhanced two-level switch mode. The Cool Running Plus Technology ballast is paired with energy saving lamps to provide an additional 5W energy savings per T5HO lamp. Both the Cool Running Plus Technology ballast and energy saving lamps will be warranted for 5 years providing an industry-best system warranty.