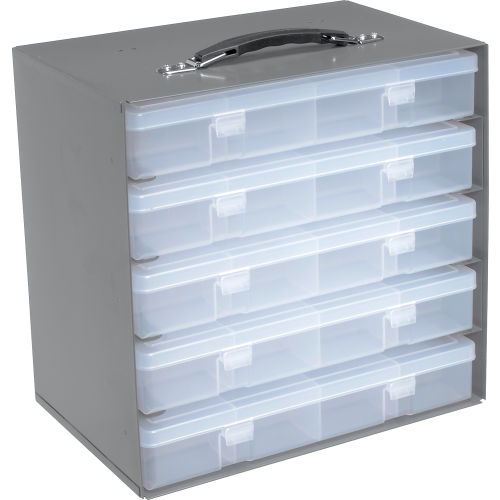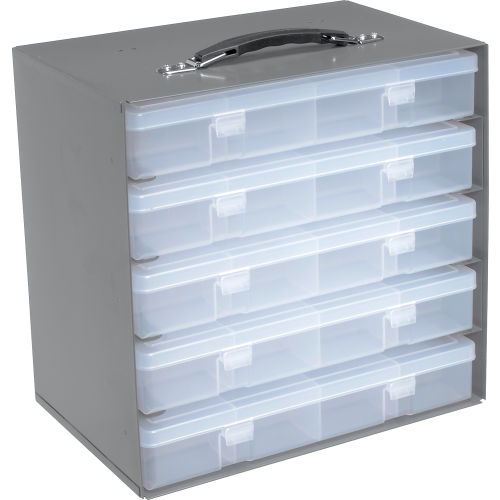 Model #: WB493511
MPN #: 493511
Durham Steel Compartment Box Rack 13-1/2 x 9-1/8 x 13-1/4 with 5 of 16-Compartment Plastic Boxes
The Compartment Box Rack is constructed of prime cold rolled steel, includes 5 large clear polypropylene compartment boxes. Each box with 16 compartments. Ideal for organizing and storing small parts.

Compartment Box Rack (#291-95) with pre-punched holes in tops and bottoms allow for secure stacking. Flexible offset handle prevents boxes from sliding out during transport. Keyhole slots in back allow mounting on walls or panels. Durable gray powder coat finish. Rack dimensions 13-1/2"L x 9-1/8"W x 13-1/4"H.

Large Plastic Box (#LP16-CLEAR ) with 16 Compartments is molded from clear polypropylene resin which permits visibility of contents. Heavy duty reinforced hinges and patented positive stops allow cover to be opened wide or remain in the upright open position making it easy to read content labels. Two positive snap latches keep boxes securely closed and prevent parts from migrating between compartments. Cover overlaps sides to keep out dust and dirt. Box dimensions 13-1/8"L x 9"W x 2-5/16"H.