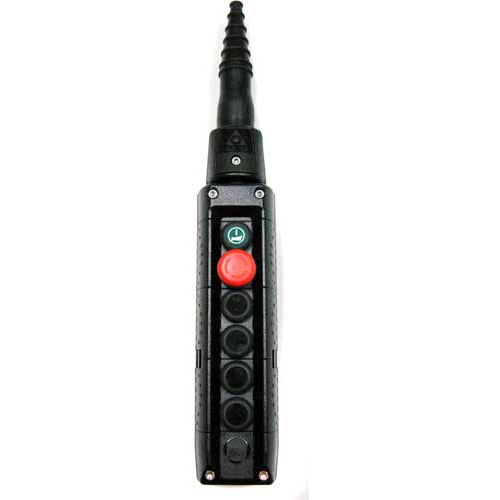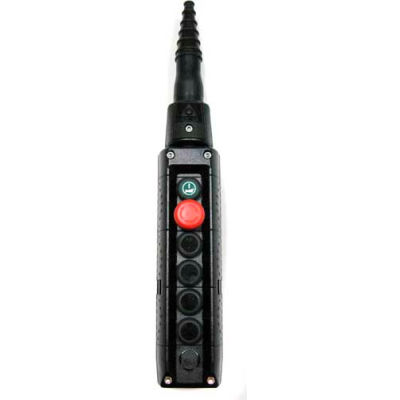 ITEM #: WBB1866932
MPN #: F70EB12000400001
T.E.R., F70EB12000400001 MIKE Pendant, 6 Button, Black, 2-Speed Buttons
was $357.00
Save $151.05 (42.31%)
Usually ships in 1 to 4 days
Tecno Elettrica Ravasi (T.E.R.), F70EB12000400001 MIKE Pendant, 6 Button, Black, 2-Speed Buttons
MIKE pendant control stations are designed for industrial applications. MIKE pendants support a safer, more efficient interface between an operator and a motor application. MIKE pendants are industrial control stations designed for heavy duty use.
Design MIKE pendants are designed to look and feel good. Each graphic element is linked to a practical advantage. Its dimensions and shape reflect careful attention to ergonomics. Its compact dimensions and anti-slip grooves make it easy to handle under any working conditions. Despite their good looks, MIKE pendants will prove reliable in the toughest conditions. All MIKE pendants are designed for extreme outdoor weather (IP67 rated).
MIKE features an innovative hanging system with the cables hidden inside the shell. The top half of the MIKE pendant's shell is not necessary while wiring and hanging. This wiring flexibility allows direct access to the switches while the pendant is hanging in place. This ability ultimately saves time and reduces costs of installation. The emergency stop mushroom pushbutton complies with ISO 13850 regulations and is equipped with positive opening NC switches.
Options MIKE pendants are available in configurations with 4 to 15 buttons. Each button can be 1 or 2 speeds and outfitted with 3 contact options. Contact options include 1NO or 1NC switches or LED with voltages of 24/48 V AC/DC or 110/230 V AC. Actuators are available in various types and colors: one or two speed buttons, selector switches and key-operated switches in various actuation configurations, pilot lights, pulsed or latched mushroom pushbuttons with rotation or key-operated release. One-speed pushbuttons and selector switches are also available in an illuminated version with a range of colors. MIKE pendant offers numerous labeling options. Upon request, MIKE can be supplied with pushbuttons bearing two-color molded symbols, as well as custom labels to meet customer's specifications.
MaterialsThe 22.5 mm rubber pushbuttons ensure protection against dust penetration. MIKE pendants will prove reliable in particularly harsh conditions. All the materials and components used are weather resistant and are guaranteed to protect the unit against the penetration of water and dust (IP67).
Typical Applications:
Crane and Hoist Operation
Industrial Lifting
Industrial Automation
Review This Product
Help us improve your experience with this product.
Review This Product
Help us improve your experience with this product.
Get to know about this product from customers who own it.