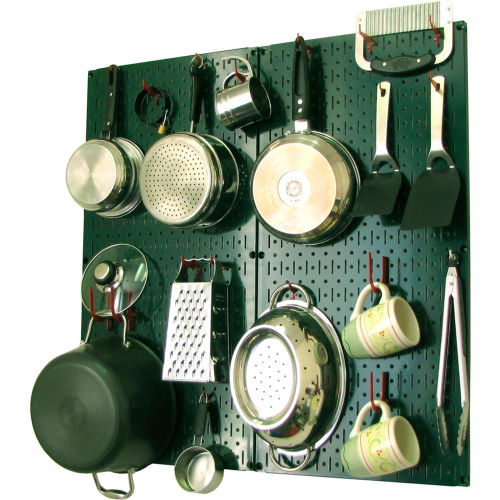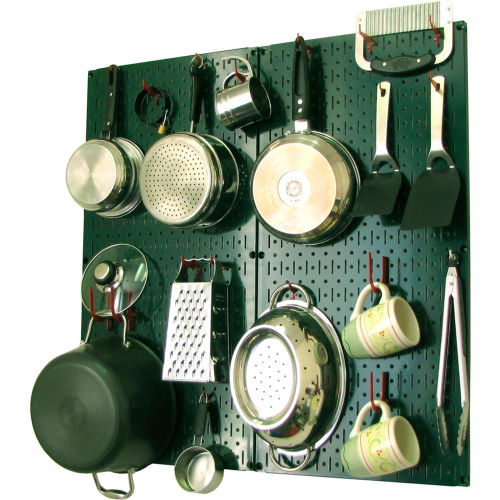 Model #: WBB1296650
MPN #: 30-KTH-200 GNR
Wall Control Kitchen Pegboard Pack Storage & Organization Kit, Green/Red, 32" X 32" X 6"
Kitchen pegboard storage and organization for pots pans and kitchen supplies, Wall Control's chic Kitchen Pegboard Pots and Pans Pegboard Organizer Storage and Organization Kit has your kitchen storage and organization needs covered. Wall Control combines the simplicity inspired by a Julia Child style pegboard storage and organization system with the modern touches of a high end kitchen by creating attractive wall mounted pegboard storage with strong and durable chic metal pegboard panels that will last a lifetime and are over 10 times stronger than conventional kitchen pegboard.
Two 16in x 32in powder-coated metal pegboard panels combine for a total kitchen storage area of 32in x 32in, over 7 Square Feet of kitchen pegboard storage space and you can always add more kits to create a larger kitchen pegboard storage area. The pegboard panels offer both slots and holes to accept modern chic slotted tool board accessories as well as conventional 1/4in style peg board hooks making this pegboard extremely versatile by allowing for a wide range of kitchen pegboard hooks and supplies. The chic slotted tool board hooks included improve hook stability for more hassle free kitchen supplies storage and organization.
Versatile, durable, and attractive metal pegboard panels are an easy-to-use kitchen supplies storage solution for kitchen utensils or pots and pans. The metal pegboard panels are easy to install into studs or walls and install in a matter of minutes. A built-in frame provides ample hook clearance and full access to all holes without requiring additional framework or using up pegboard holes for mounting. Mounting hardware is also included. Wall Control Kitchen Pegboard Products are Made in USA.
Kit Includes:
(2) Green Kitchen Pegboards 32in x 16in
(18) Red Assorted Kitchen tool board Hooks for organizing pots pans and kitchen supplies
Board Dimensions: 32" X 32" X 3/4". This is how deep the actual pegboard itself extends from the wall.
Overall Dimensions: 32" X 32" X 6". This is how far the total "kit" would extend from the wall with the longest hook in the pegboard.