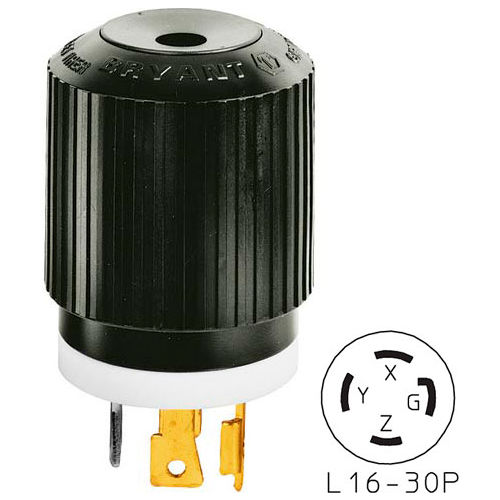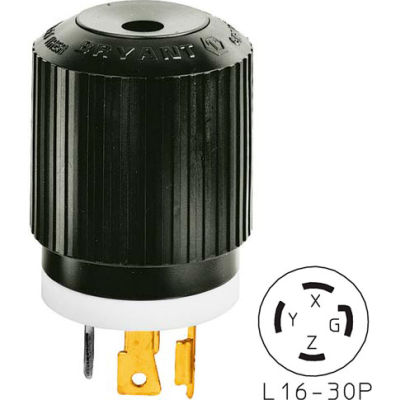 ITEM #: WBB216154
MPN #: 71630NP
Bryant 71630NP TECHSPEC® Plug, L16-30, 30A, 3ph 480V AC, Black/White
Construction:
Terminal Screws: #10 Bronze
Cord Grip Assembly: Impact Modified Nylon
Terminal Cover: Clear Polycarbonate
Face Terminal Assembly: Impact Modified Nylon
Cover housing: Super Tough Nylon
Terminal Clamp Nut: Zinc-Plated Steel
Assembly Screws: Zinc-Plated Steel
Plug Blades: Brass, (neutral blade nickel-plated)
Technical Specs:
Dielectric Voltage: Withstands 3500V per UL498
Maximum working Voltage: 600V AC or 250V DC
Current Interupting: Certified for current interrupting at full rated current
Temperature rise: Maximum 30 deg C temperature rise at full rated current after 50 cycles of overload at 150% rated current for either AC or DC applications per UL498
Terminal Identification: (X, Y Z Brass Hot) (G, Green, Grounding) (W, Silver, Neutral)
Cord Accomodation: Round portable service cords in accordance with device ratings as defined in UL Standard 62, CSA C222 No 49
Cord Grip Range: 3 Wire: 300"-950" (762-2413), 4 and 5 Wire: 465"-1115" (1181-2921)
Flammability: HB or better per UL94 or CSA 222
Configuration Type: L16-30
Operating Temperatures: Maximum continuous 60 deg C, minimum -40 deg C without impact
Standards:
UL Standards: UL Listed to Standard 498 (Attachment Plug and Receptacles)
UL Listing File: UL Listed File #E1381- Guide #AXUT
Federal Specifications: Federal Specifications WC596 (where applicable)
Complies With: Complies with NEMA Standards WD-1, WD-6 and UL 498
Overseas Approval: NOM, CE
CSA Standard: Certified to CSA Standard C222 No42M1984 (General Use Receptacles) and C222 No 1822M1987 (Industrial Locking Type, Special Use Attachment Plugs, Receptacles and Connectors) where applicable
CSA Certification File: CSA Certified File #LR16215- Guide #20T2
Review This Product
Help us improve your experience with this product.
Review This Product
Help us improve your experience with this product.
Get to know about this product from customers who own it.