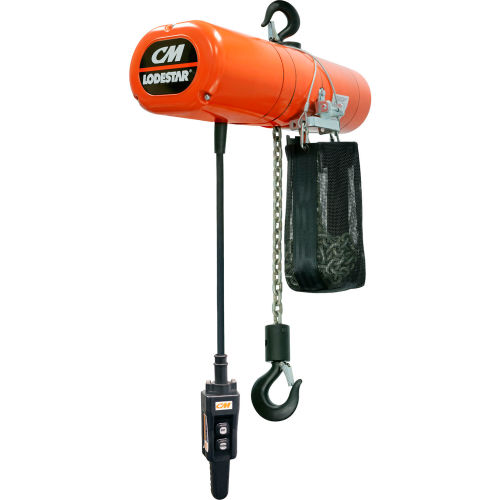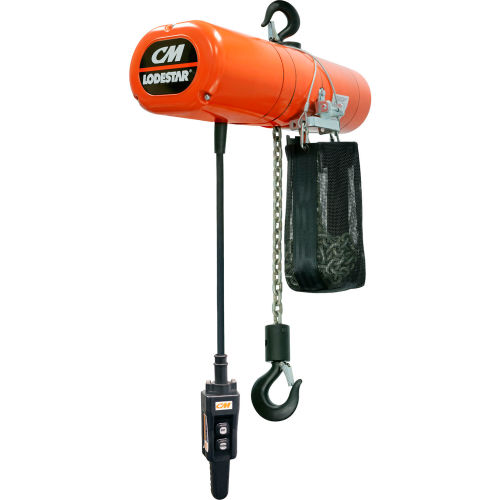 Model #: WBB1299515
MPN #: 4225NH
CM Lodestar 1 Ton, Electric Chain Hoist W/ Chain Container, 20' Lift, 16 FPM, 230/460V
CM Lodestar Electric Chain Hoist w/Chain Container, 1 Ton, 20 Ft. Lift, 16 FPM, 230/460VThe benefits of superior design:
Heavy Duty DC Brake is designed for a long service life. Brake location allows for quick access and easy inspection.
Lifetime grease-lubricated Gear Box means no oil change out is required. Precision gears provide better wear and longer life.
Clutch located outside the Gear Box allows for easy access which eliminates the need for complete disassembly and reduces downtime.
Easy access to the Clutch, Motor, Electrical Control Panel and Brake Assembly.
Lifetime grease-lubricated Gear Box and helical gearing ensures efficient operation. Heavy duty rated motors. Hoist workmanship backed by a lifetime warranty.
80% reduction in sound pressure as compared to the classic Lodestar.
Clutch is located outside the load path which prevents slipping of the load in an overload condition when brake is not powered.
5 Pocket Lift Wheel provides better chain and lift wheel engagement for smoother lifting and reduced vibration -- which equates to less wear and a longer chain life.
Zinc plating to protect chain from environmental conditions.
With finger-safe wiring and plug and play connectors, the Control Panel allows for quick voltage change, access to terminal strips and simple fuse installation.
Lodestar exceeds H4 requirements, engineered for high duty cycles and the toughest applications.
Lifetime grease-lubricated Gear Box means no changing and disposing of hazardous oil.
Documented RoHS compliance.
Shipped in boxes made of recycled material.
Fabric chain container and rigid hook suspension standard on every Lodestar.
Lifetime Warranty.
Metric rated.
CSA/US National Recognized Testing Laboratory (NRTL).
Made in the USA.
OPTIONAL FEATURES:
Double DC Brake - Two independent acting DC Brakes for redundant braking. Field Installation Kit available.
AC Electrical Brake.
Variable speed drive (VFD) or traditional 2 speeds available.
Primary and secondary transformer fusing.
Rotatable limit switch - Designed for quick reset of limit position.
Black phosphate or stainless steel load chain.
Metal and stainless steel chain containers.