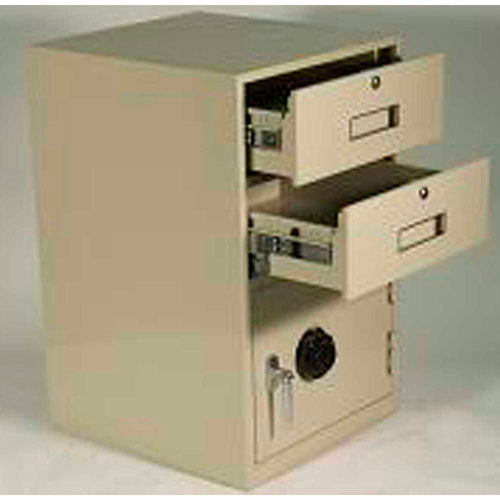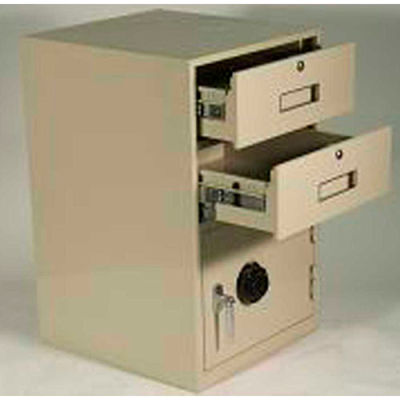 ITEM #: WBB1640175
MPN #: S-620L-A
Fenco Lowboy Pedestal Safe S-620L-A - 2 Drawers Thick Full Left Hinged Door 19x19x27-7/8 Champagne
was $1522.61
Save $401.61 (26.38%)
Usually ships in 49 to 52 days
Select Color
Fenco Lowboy Pedestal Safe S-620L-A - 2 Drawers Thick Full Left Hinged Door 19"W x 19"D x 27-7/8"H Champagne

The Silverline was developed as lower priced alternative to the Goldline. Although the Silverline is priced significantly lower than the Goldline, we're able to maintain a high level of quality, very similar to that of the Goldline. We at Fenco Strongly believe the Silverline is a 9 out of 10 VS. the Goldline being a 10 out of 10. The Silverline out performs and outlasts Diebold undercounter and the like. Being well received by the dealers and end-users, the Silverline has quickly grown to account for over 50% of Fenco undercounter sales.
The only difference between the Silverline and the Goldline is the exterior shell constructions specifications and width. The shell construction for the Silverline is always 1" wider than the Goldline. The Silverline uses 20 Gauge on the exterior shell, whereas the Goldline uses 18 Gauge. On the Silverline shell constructions, we fold and bend the corners to form a nice, clean finish. We then spot-weld the shell's corners thoroughly to tie together the exterior shell. The Goldline cabinet shell construction is TIG Welded with ground corners for a nice flush, smooth, clean, durable finish. The Goldline goes through an extra production step (TIG Welding) in which we can skip with the Silverline. So, we pick up a little bit of time in the welding department, a little bit of steel cost on the exterior shell and then pass those savings directly to the customer.
All the materials and parts inside the shell are the same for the Goldline and Silverline; the separating shelf, slides, drawers, doors, locks, etc. are the SAME for both the Goldline and the Silverline.
Both the Goldline and Silverline are all welded, all steel product lines. (NO pop rivets holding the shell together and NO plastic drawer bodies).

Safe Comparment has a Thick Full Compartment which features 1/8" thick steel plate for entire compartment.

Mobile conversion (add wheels, brakes and handles), additional color, lock and height alteration options available, call for quote or details.


Review This Product
Help us improve your experience with this product.
Review This Product
Help us improve your experience with this product.
Get to know about this product from customers who own it.