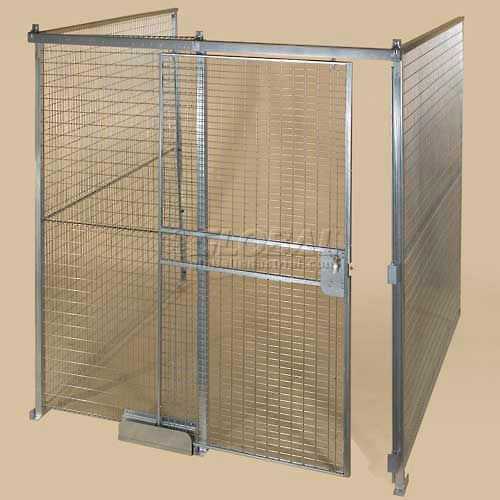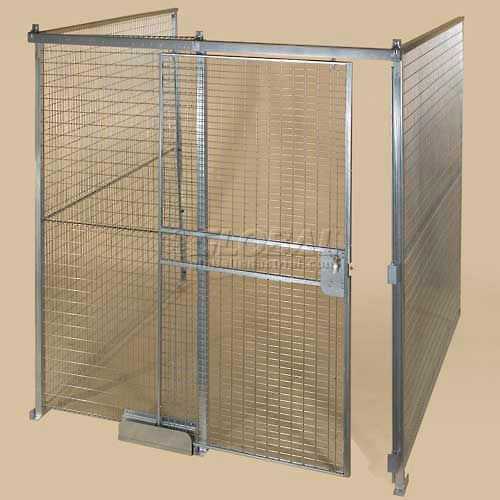 Model #: WBB644340
MPN #: QWK1288-3
Qwik-Fence® Wire Mesh Pre-Designed, 3 Sided Room Kit, W/O Roof 12'W X 8'D X 8'H, W/Slide Door
was $2220.83
Save $966.83 (44%)
Usually ships in 35 to 38 days
Qwik-Fence® wire partitions is an extremely tough but attractive system for separating and securing any space. We secure galvanized wire in a grid pattern welded at each intersection. The process creates more than 500 welds in a 4' x 8' panel and that produces a wire mesh partition panel that is substantially stronger than woven wire partitions, as confirmed by independent testing.

Quality Construction: Partition panels, posts and doors are all-steel and completely galvanized for long-lasting performance and good looks. Open welded wire mesh design provides unobstructed view, allows air circulation and light penetration, while providing security.

Easily Installed: Qwik-Fence welded wire partitions install 25% faster by using fewer parts, and self-tapping screws instead of nuts and bolts used in conventional systems. Doors are pre-hung and cut installation time by 50%. And because there are no pins to drill out, Qwik-Fence can be reconfigured faster and more easily, saving additional labor costs. Qwik-Fence installs faster on uneven floors compared to other systems which require shimming of each post.

Economical: Qwik-Fence welded wire partitions offer the lowest total cost of ownership of any wire partition system on the market.

Versatile: Unlike woven wire partitions that unravel when cut, Qwik-Fence welded wire partitions can be trimmed in the field to accommodate changes in dimensions, floor or wall irregularities, custom conveyor or lift systems and overhead piping or obstructions. Qwik-Fence panels can be attached to posts at angles other than 90 degrees, providing greater flexibility in the shape of your wire partition enclosure, which allows more efficient use of space.

Strong, secure: Qwik-Fence welded wire partitions gets its strength from 8-gauge welded wire mesh, all-steel construction, its system of anchoring to the floor and thickwall square tubing posts. Panel hardware is accessible only from the inside of partition for added security.

Maintenance-Free: Qwik-Fence welded wire partitions look new for years to come. Galvanized components are rust resistant and maintenance-free no paint touchups are ever needed.

Applications: Qwik-Fence welded wire partitions are ideal for separating and securing any space in industrial, commercial or government environments. Qwik-Fence can be used to divide work areas, create secure storage, stock rooms and tool cribs.
Modular: Component system makes planning, installing and relocating easy in any space. Panels stack one on top of each other between posts to create enclosures up to a height of 75 feet.

Attractive: Bright steel wire mesh gives it a clean, attractive look in both office and production areas. Powder coated colors optional.

Also available: Numerous door and lock options, extra-high partitions, service window, ceiling panels and custom sizes.

Warranty: Qwik-Fence welded wire partitions are backed by a 1 year warranty.

Includes 4'w x 8'h Slide Door w/ cylinder lock and recessed knob inside.