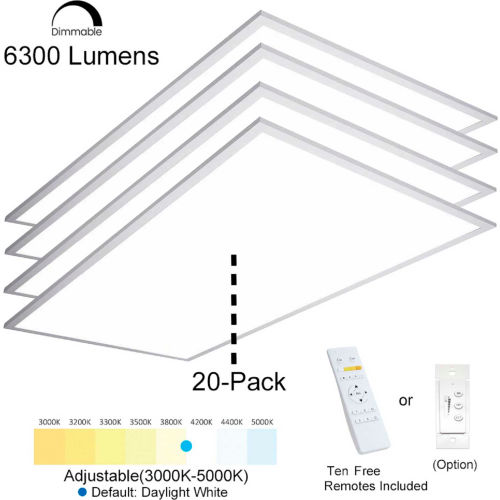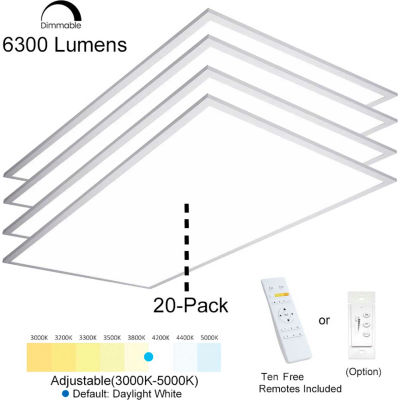 Model #: WBB3086457
MPN #: EEBPTL2450W-R20
eSenLite® 2x4ft 50W 6500 LM LED Ceiling Panel Troffer Light 3000-5000K CCT Dim w/ Remote 20 PK
eSenLite® innovated dimmable (0-4200 Lumens or 0-6300 Lumens) and color selectable (3000-5000K, factory default: 4000K), ultra-thin standard LED ceiling troffer panel light provides exceptional performance and market leading quality while saving energy. Designed with maintenance free Integrated 3rd generation LED illuminators ensure up to 80,000 hours life cycles. It features a unique light fixture structure, side view emitting, high transmittance LGP and illumination uniformity. The soft light can relieve eye fatigue, and it is shadow free. The LED panel is dimmable (0-4200 lm or 0-6300 lm ) and color selectable (3000-5000K, factory default: 4000K). Easily for most commercial installation as new lighting project or can replace your existing old-dated fluorescent troffer lights. The lighting brightness and LED color can be easily adjusted by optional hand hold wireless 2.4 GHz remote and/or wall mount controller as well compatible with 0-10V standard dimmer. Applications include offices, conference/meeting rooms, classrooms, show rooms, working shop/studio and more.
Features:
Operating flexibility: dimmable either with standard 0-10V dimmers (as low as 1% with smooth adjustment) or with remote control (EEFPTL-RC-W/EEFPTL-RC-H/EEFPTL-ACRC-W as option)
Wide operating voltage: 110-227VAC/50-60Hz, worldwide AC power source compatible
Installation: drop this ultra-light panel right on the lay-in T-bar ceiling, easily recess the panel while replace old fixtures or for new construction project
Application: Not just for standard T-bar ceiling, also prefect for surface and wall mount decoration, A.D. post lighting and hanging lighting
Slim CREE design and unique: enjoy a perfectly distributed light that is completely shadow less from the EDGE-LIT LED GREE technology, complete uniformity and not hot spots, as well as has ability with remote control (RC capability) pre-set or manually setup its brightness, illuminating color and plus more features
40W, 4200 lm for 4' x 1' and 2' x 2' panels; 60W, 6300 lm for 4' x 2' panels
Each box comes with 2 pieces of LED panels; and each box of 4' x 2' panels come with one free handheld remote control
Dimmable with 0-10V dimmer
Color selectable by remote control (option) from 3000-5000K for your lighting applications
Rated lifetime: 80,000 hours (73-years)
Save money: not only well built it with low power consumption lighting fixture and also eligible for Nationwide Rebates
Review This Product
Help us improve your experience with this product.
Review This Product
Help us improve your experience with this product.
Get to know about this product from customers who own it.