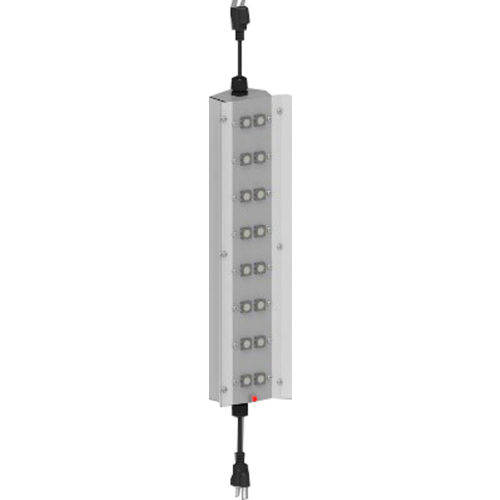 Model #: WB812414
MPN #: LE6725UVC-1P1C
Lind Equipment, LE6725UVC-1P1C, Apollo UV-C LED Light
Lind Equipment provides new portable UV-C LED light to help with decontamination of equipment and entire rooms. UV-C light is a scientifically proven method of killing viruses and bacteria. Even coronaviruses like SARS or MERS are susceptible to UV-C light. UV-C lights decontaminate many things such as: vehicles, equipment, and more. Lind Apollo Light with 1' plug and cord on one end and daisy-chain 1' cord and outlet on the other. 3 Year Limited Warranty. EPA Est. 96309-CAN-1
Benefits:
Multiple mounting options (hang from ceiling, mount on stand or permanently mount to a wall)
Can be used on a standard power outlet
Light turns on and off instantly (no wait time)
Built with steel construction and UV resistant coating
No heat is produced by the LED lights
30,000 bulb life expectancy
UV-C LED Light Frequently Asked Questions
Is it safe to be in the room with the light on? Can I look at the light?
UV-C light is not safe for the eyes or skin.
While wearing UV-C protection glasses and not exposing any skin can help, it is recommended that you do not expose yourself to the path of the light. Do NOT look at the light while it is on.
What is a safe distance to be from the light?
It is recommended that you don't go in the path of the light while it is on.
How long does it take to decontaminate a room?
This is dependent on the room size, and how many lights used.
Can the lights be daisy-chained? Up to how many can I daisy-chain?
Yes. Each light comes with a daisy-chain cord and connector that allows you to string up to 30 lights together on a single 120V/15A circuit.
Does the light need to penetrate the reverse side of the object it is facing for that object to be completely "clean" and decontaminated/free from bacteria?
It is recommended to expose all surfaces to the direct UV-C light from the Apollo light to ensure that the equipment gets the proper dose on all surfaces.
What is the effect of UVC light through glass?
Surface such as glass will block the UV-C light from transmitting through it.
Can you refigure/retrofit existing lights to also have UV-C? Can you take a prev. purchased light from us and retrofit these UVC boards onto them to have a UV-C light?
We are only offering the Apollo light in its current form. Custom applications of this technology if you have a need, may be available.
How do shadows affect the UV-C light?
Shadows will decrease the amount of UV-C light that the equipment receives, and thus increase the time required to meet the needed dose. We recommend having clear line of sight from the Apollo light(s) to the surfaces of the equipment and area being decontaminated.
What are the benefits of having a UV-C floodlight rather than an area or 360° light?
This is dependent on the application. If decontaminating equipment then a 360° light is not needed but rather a more traditional floodlight application. If decontaminating a room with access to the center of the room, a 360° degree implementation of our lights (ex: our stand) may be more suitable.
Does the light emit ozone?
It does not. Ozone can be created by UV-C lights that emit wavelengths lower than 210nm. But this unit of lights emits a peak 275nm of UV-C light.
Review This Product
Help us improve your experience with this product.
Review This Product
Help us improve your experience with this product.
Get to know about this product from customers who own it.