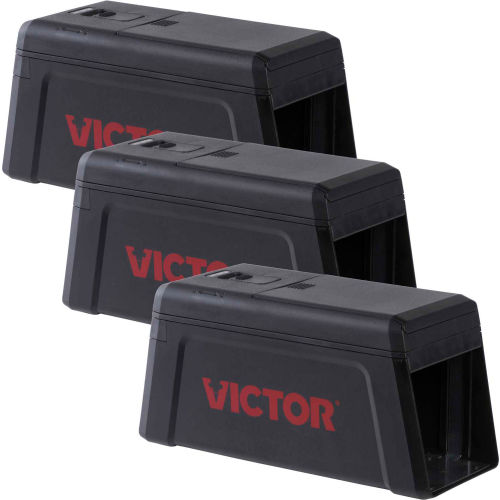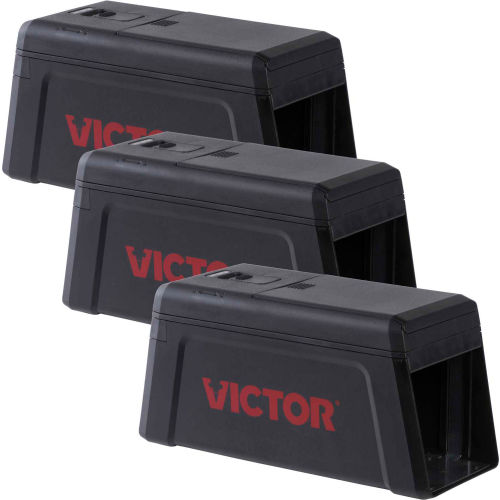 Model #: WBB2339254
MPN #: M241SR-3
Victor Electronic Rat Trap - 3 Traps/Pack - M241SR-3
The Victor Electronic Rat Trap is the ultimate in rodent control. It works by delivering a humane, high-voltage shock to effectively kill the invading rat. This powerful device is capable of killing up to 50 rats per set of fully charged batteries (4 C), making it a great value when you're dealing with a sizable infestation. It's also easy to use! Get started by simply applying a high protein bait in the provided bait cup, place the trap in a location with high rodent activity and turn it on. The trap is equipped with advanced smart circuit technology, which senses when a rat enters the tunnel, triggering the system to deliver a humane, high-voltage shock once the rat steps on the electrified plate. Since rats have the ability to restart their hearts after an electrical shock, this trap applies shock for 2 minutes to ensure higher kill rates. After making a catch, a green LED light blinks to indicate a kill. For your convenience, the trap's design allows you to easily dispose of the dead rodent without having to see or touch it. The new and improved design of the electronic trap has a removable kill chamber, which provides better plate access so you can easily clean and bait it in between uses. These traps require no poison and can be used anywhere inside your home or business to ensure years of effective rat control.


AUTO-REORDER from GlobalIndustrial.com ensures you don't run out of essentials to make your life easier.
Eliminate the need for reminders and repetitive orders.
Customize your order frequency, delivery schedule, and quantity with just a few clicks.
Automatic email notifications keep you in the loop before every order.
It's completely FREE and you can cancel anytime from your profile.