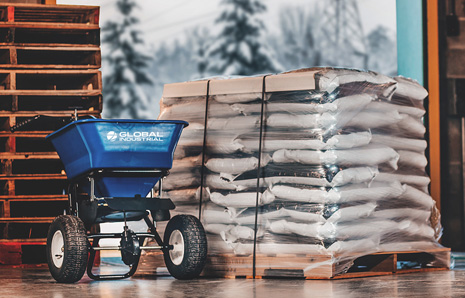 You don't need a lot of salt to keep ice and snow at bay, but you do need to prepare.
Applying heavy layers of sodium chloride will not make the snow or ice melt faster. A handful per square yard is all you need.
Global Industrial™ Universal Spreader 100 Lb. Capacity
Ice Melt Guide & Comparison Chart
Ice Melt
Temperature Rating
Concrete Safe
Child Safe
Pet Safe
Environment Safe
Understand what you need to do for a safe winter
Shovel often
Remove as much snow and ice as possible before any deicers are applied. Rock salts and deicers work best when there is only a thin layer of ice or snow to melt.
Buy early
Rock salts and deicers sell out early and fast. You've probably waited too long to buy your rock salt and deicers and were stuck watching ice and snow accumulate. Stock up now. You'll always use it.
Protecting plants and other flora
If you want to protect shrubbery, plants and vegetation, check to see which of your plants and trees are salt sensitive. If they are not, any rock salt is fine. If they are, look for environmentally friendly products that have no chlorides. Be aware that urea products contain nitrogen, which is bad for the water supply, and they do not perform well below 20 F.
Landscaping at risk from salting
Deciduous Trees: Tulip poplar, Green ash, Hickory, Red maple, Sugar Maple
Conifers: Balsam fir, White pine, Hemlock, Norway Spruce
Shrubs: Dogwood, redbud, hawthorn, rose, spirea
Grasses: Kentucky bluegrass, Red fescue
We have everything to conquer the ice and snow