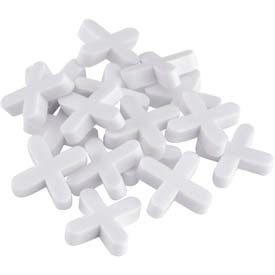 See all 11 items in product family
Tile Spacers For Floor And Wall Tiles Are Used For Creating Evenly Spaced Grout Joints For Ceramic Tiles, Porcelain, Stone And Marble.

Tile Spacers For Floor And Wall Tiles are made of flexible PVC construction for long lasting durability and dependability. Ensure that grout lines are the same width and that the tiles line up at the corners. Cross design spacers are easy to place, adjust and remove when finished. Work with all sizes of ceramic tile, porcelain, stone and marble. 1/16, 1/8, 3/16, 1/4 and 3/8 inch size spacers are available in selected 100, 200, 250, 400, 500 or 1000 piece per bag quantities. Wedge Tile Spacers are available in 500 piece per bag quantity. Bulls Eye Clear View 2-in-1 Tile Spacers have a unique, open center patented design that does the job of four traditional spacers and keeps the spacers out of the thinset and provides a clear view of grout lines and corners. Come with 100 spacer rings and 50 mini-wing spacers. Available in two models, each handling two different size joints.


Click for more
See all 14 items in product family
Underlayments Are Used For Cushioning Flooring And Reducing Noise.

Underlayments have a sturdy construction for long lasting strength, durability and dependability. Used for use over concrete and wood subfloors. Keep floors warmer in winter and cooler in summer. Fortifiber, QEP and Roberts® brands offer a wide selection of underlayments made of various materials to choose from depending upon particular need or application, including Recycled Fibers, 80% Recycled Fibers, Asphalt Laminated Kraft Paper, Closed Cell Foam, Dense Foam, Natural Cork, Polyethylene, Polyethylene Foam, Progressive Foam Technology or Wax And Kraft Paper. Package quantities range from 1 to 60. Dimensions vary from 100 to 1500 square feet.


Click for more