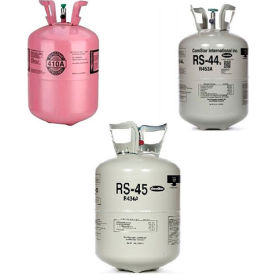 See all 11 items in product family
Refrigerants "Green" Alternatives Are Used For Applications Including Residential, Commercial, And More.

Refrigerants "Green" alternatives are made of high quality materials for long lasting durability and dependability. Refrigerants are HFC, zero ozone depleting, and designed for direct replacement. Units accommodate supermarkets, dairy chillers, refrigerated transport, cellar cooling, and more. Features lower discharge temperatures. Compatible with all lubricants. No oil changes required. Non-flammable. Available styles include replacements for R22, R502, and R12. Capacities are 24.2, 25, 26, and 30 lbs.


Click for more