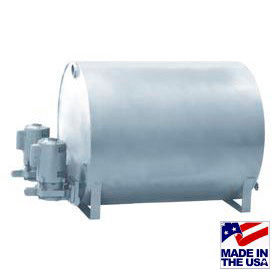 See all 5 items in product family
Boiler Feed Units Return Condensate To Boiler For Residential, Commercial And Industrial Steam Heating And Processing Applications.

Boiler Feed Units are used to return condensate to the boiler. Designed for use with systems up to 27,800 sq. ft. EDR or up to 200 Boiler HP. Boiler feed units feature a heavy gauge steel receiver with corrosion resistant HoffGuard™ gray coating. Epoxy powder coat inside and out with an expoy overcoat. Includes a low height NPT inlet for easy return line piping and NPT drain connection. Separate NPT connections provide a secondary vent for safe operation. Float operated, internal water make-up valve adds cold water at low level. Boiler feed units include a water level gauge with protective brass rods and shut-off valves. Pump seal offers a maximum temperature of 250°F. 3,500 CFM. 115/208-230V. ISO 9001 certified. Duplex units consist of 2 pumps, make-up water valve and water level gauge. Available in Simplex or Duplex Designed Units. One Year Limited Warranty. Hoffman™ custom built to order condensate units are also available for larger or special requirements.
Click for more