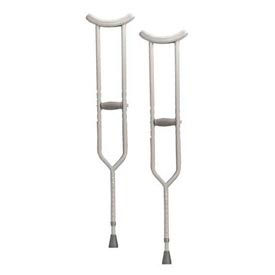 See all 10 items in product family
Crutches Provide Support To People With Disabilities And Injuries When Walking.

Crutches are made from aluminum or steel for long lasting durability and dependability. Non-marring contoured tipped feet provide excellent traction and stability. Crutches are height adjustable to allow for personalized underarm pad positioning. Types are Forearm and Underarm. Sizes are Adult, Junior, Pediatric, Standard, Tall Adult, Universal, Youth Adult to Adult Tall and Youth. Weight capacities are 175 lbs, 300 lbs, 350 lbs, 400 lbs, 500 lbs and 600 lbs. Colors finishes are Aluminum, Blue, Bronze, Chrome, Gray and Silver. Dimensions vary per type.


Click for more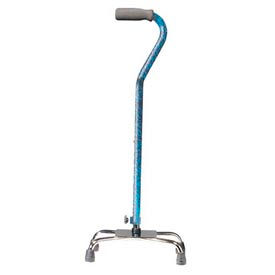 See all 16 items in product family
Walking Canes Are Used For The Injured, Elderly, Handicapped And Others Requiring Support While Walking.

Walking Canes are made from anodized aluminum, vinyl and other high quality materials for long lasting durability and dependability. Variety of designs, colors, sizes and styles available. Comfort grip handle and non-marring tips provide stability. Tipped base prevents scratching and marring of floors and other surfaces. Height adjustable handles allow for personalized adjustments. Types are T Handle, All Terrain, Bag, Blind Folding, Cane Seat, Cane Tip, Folding, Offset Handle, Round Handle and Quad. Weight capacities are 200, 250, 300 and 350 lbs. Variety of colors available. Sizes are 3/4' Tubing, 18" x 8", Bariatric, Small Base and Standard. Dimensions vary per type.


Click for more