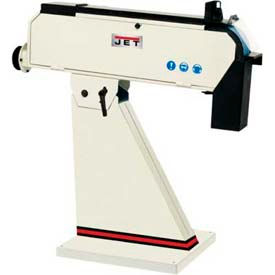 See all 4 items in product family
Belt Grinders Are Used For Various Contouring, Grinding And Finishing Applications.

Belt Grinders are solidly manufactured for long lasting durability and dependability. Pivot up and down on base for easy and safe work height adjustments. Hinged top cover opens for access to grind large pieces using the entire length of the belt. Advanced belt tracking with vented front wheel fixed in place for rigidity when grinding on the wheel radius. Sturdy enclosed base. Fully assembled for immediate use. Available in Single or 3 Phase 4 horsepower, 220V models with 6600 SFPM belt speed. Square Wheel Belt Grinders perform intricate contouring or internal finishing on uniquely shaped parts. Platen setting for high speed, precision flat and level grinding and refinishing of cylindrical shapes. Yoke surface conforms to shape of the surface to produce an even, smooth finish. Serrated contact wheel is used for removing heavy stock, cleaning up a weld or snagging a casting. Puts a satin finish on steel, iron or aluminum. 115V, 1 horsepower, single phase models are available in single 4600 SFPM or variable 1100-6000 SFPM belt speeds.


Click for more